Former NCAA Champion Says Derrick Rose Was the Best Player He Faced in College
Published 01/26/2021, 3:00 PM EST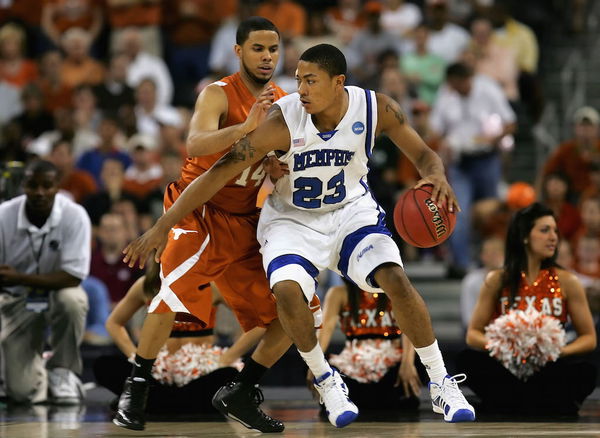 ---
---
The last time the Memphis Tigers were in the NCAA Finals was back in 2008. Although that season was vacated for them later, it led to the rise of 2011 NBA MVP Derrick Rose. It was the Tigers' best campaign, but they fell to the Kansas Jayhawks in the finals.
ADVERTISEMENT
Article continues below this ad
Darnell Jackson, member of that Jayhawks championship team, was recently asked about the best player he has faced in college, He had only one name in mind. He said, "I got to give it to Derrick Rose. If you go back and watch that game, that guy wasn't missing. Explosive, hitting every shot… I'm sitting like, 'Damn, he's gonna beat us by himself.'
"Definitely a God given talent. His talent is out of this world. You see what he's doing in his career now, he's still playing, still healthy even though he had his injuries. That didn't stop him from being great."
ADVERTISEMENT
Article continues below this ad
Throwback to that insane freshman season by Derrick Rose
Before the 2007-08 season, the Tigers fell in the regional finals in back-to-back seasons. John Calipari's arrival had lifted the team, but they were still falling short. But when they recruited Derrick Rose, it was like the final piece to their puzzle.
ADVERTISEMENT
Article continues below this ad
Rose started 39 of their 40 games in the season. He got off to a flying start from his first game, scoring 17 points against UT-Martin. He followed it with 21 points against Richmond. Rose continued this form throughout the season, as he helped the Tigers qualify for the NCAA tournament.
As the stage became bigger, Rose's performances became better. He averaged 21.4 points, 6.6 rebounds, and 5.6 assists in his first five games as he took the Tigers to the championship game. But in the Final, he wasn't able to recreate his previous performances. The Tigers point guard had 18 points but shot just 7-17 from the field, as the Tigers eventually bowed out in overtime.
ADVERTISEMENT
Article continues below this ad
Despite the result, Rose solidified himself as a top prospect going into the 2008 NBA Draft. These performances were enough to convince the Chicago Bulls who later selected him with the #1 overall pick. Although that season has been vacated for the Tigers, but it will still be remembered because of D-Rose.