Kentucky Wildcats' John Calipari Publicly Shames His Player Following Emotional Outburst Against UNC Tar Heels
Published 12/22/2020, 5:47 AM EST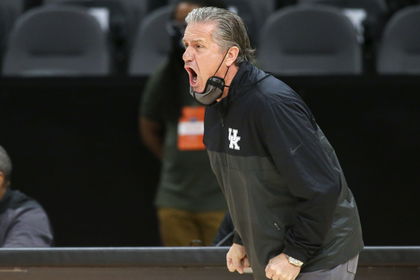 ---
---
The Kentucky Wildcats lost their fifth game in a row on Sunday. During the second half of the game, freshman Cam'Ron Fletcher was crying on the bench. He later stormed out into the locker room before the game ended.
ADVERTISEMENT
Article continues below this ad
The next day, Fletcher issued an apology on Twitter with a long and mellow message. He wrote that it was an outburst of emotions, considering their team form, and probably his playing minutes as well. He took responsibility of his actions and vowed to not repeat it.
ADVERTISEMENT
Article continues below this ad
But almost 24 hours later, in a completely uncalled for message, Coach John Calipari publically shamed Fletcher for his actions. It was surprising to see a coach call out a young player in that manner on a public forum, despite him already apologizing.
We have asked Cam Fletcher to take some time and step away from the team. He needs to reflect and do some soul searching to get his priorities in order. Any attitude or actions that are detrimental to this team will not be tolerated – and that goes for everyone on the team.

— John Calipari (@UKCoachCalipari) December 21, 2020
I talked to Cam and his mother and they know I care about him and I love him, but they also understand that there are changes that need to be made. It's his job to decide whether he can perform within this culture both on and off the court.

— John Calipari (@UKCoachCalipari) December 21, 2020
Did Coach Calipari go too far?
Calipari has been under fire from the start of the season for the team's poor form. The Wildcats are currently 1-5, in what is their worst start to a season since 1926-27. So these actions will further hurt team chemistry.
During the press conference after the UNC game, Calipari was asked about Fletcher's actions. At that time he mentioned that Fletcher had already apologized. "You've got to accept your position on this team," Calipari said. "Cam was mad he didn't play more. I said, 'The guys in front of you are playing.' Cam came in and apologized after."
So it is surprising how a matter that was supposedly dealt with internally reared its ugly head on social media in such a fashion.
Is there a light at the end of the tunnel for the Kentucky Wildcats?
ADVERTISEMENT
Article continues below this ad
After coming off a big game against UNC, Kentucky is once again going to be tested in their next game. They have a big matchup against Louisville next, with the team morale at an all-time low. They just had six losses last season, and they are at five already now.
If they can somehow manage a win against the Cardinals, they have a few easier fixtures ahead of them. They can build some momentum and try to end the season with the best record possible.
ADVERTISEMENT
Article continues below this ad