NCAA Basketball: Decision On Teams With Positive Cases During Tournament Announced
Published 01/28/2021, 7:43 AM EST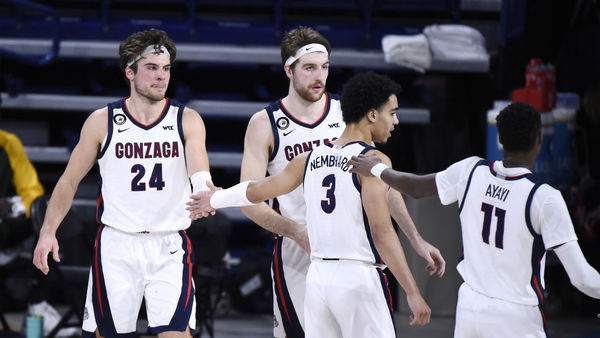 ---
---
The NBA had tremendous success with their Orlando bubble in 2020. So, NCAA basketball is going to adopt that model this year. All 67 of the 2021 March Madness games will be played in a bubble in Indiana.
ADVERTISEMENT
Article continues below this ad
There were zero cases of COVID-19 recorded in Orlando, and NCAA's Dan Gavitt is hoping for the same in Indiana. He recently cleared the air on whether a team will be knocked out if there is a positive case.
"There's no reason to believe that a team will be knocked out if there's a single positive case," Gavitt said. "Because contact tracing should not result in what we've arranged here to knock out an entire team. If it's a positive test, it's isolation for at least 10 days. If it's a close contact it could be up to 14 days.
ADVERTISEMENT
Article continues below this ad
"There's a chance that if it's a close contact you can test after 7-10 days depending on where we are in the tournament. It's not really an event you can pause or postpone very easily. We're gonna provide an incredible environment and the testing necessary to make sure everybody's healthy and safe."
NCAA Basketball: Will it be safe to proceed with a bubble?
The biggest difference between the NBA and the NCAA bubble is the number of teams. The NBA had just 22 teams in Orlando, while the NCAA exceeds that number over three times with 68 teams. The NBA also had more resources to ensure a better safety protocol, while the NCAA has considerably lesser resources.
One of the main reasons they are going ahead with the tournament is due to the money they lost last year when the tournament had to be canceled. They lost $375 million while there has been an overall $600 decline in revenue since then.
ADVERTISEMENT
Article continues below this ad
Another concerning factor is that the COVID situation in Indiana isn't the most promising. IndyStar reported 2,260 new cases as well as 40 deaths from COVID on January 27. While the tournament is over a month away, if the cases keep going up, the risk goes up as well.
Finally, conference tournaments are likely to take a hit because of the NCAA tournament. Teams who have guaranteed their place in the bubble have been flirting with the idea of backing out of the conference tournaments. Louisville Cardinals' coach Chris Mack said he would consider it. And there may be more.
ADVERTISEMENT
Article continues below this ad