WATCH: Did Cade Cunningham Prove He Deserves To Be Drafted First Overall With 40-Point Performance?
Published 02/27/2021, 9:34 PM EST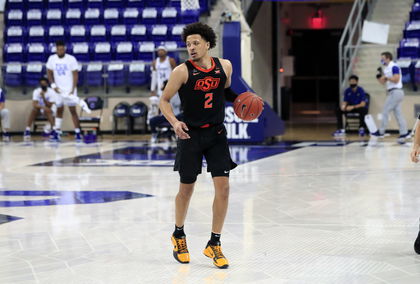 ---
---
The Oklahoma State Cowboys are on the way to their best campaign in almost a decade. They owe this solely to top prospect Cade Cunningham, who has been a revelation for them so far. Tonight, he had his best performance of the season, as he demolished rivals Oklahoma Sooners' defense.
ADVERTISEMENT
Article continues below this ad
Cunningham finished with a massive 40 points and 11 rebounds during their road win. He shot an efficient 12-21 from the field and was almost flawless from the line, going 13-14.
Not only did he have an outstanding display on offense, but also on defense as he grabbed three steals and two blocks.
ADVERTISEMENT
Article continues below this ad
This feat is also impressive because the Sooners are ranked #7 in the country. He became the first player since Steve Novak in 2006 to drop 40+ points and 10+ rebounds against a top 10 ranked opponent in NCAA basketball.
This performance also further solidifies his claim as the number one pick in the upcoming 2021 NBA Draft. There were already numerous reports that he would be selected first, but this display should clear any doubts about it.
Is Cade Cunningham on his way to be the first top-ranked prospect to go #1 since 2015?
Being the top-ranked prospect doesn't always translate when the player enters the NBA. Only three players in the last decade have gone number one overall pick in the Draft after being the number one ranked prospect in college. These are Anthony Davis, Andrew Wiggins, and Ben Simmons, who was the most recent one in 2015.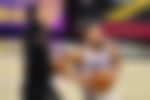 There are two other players who could potentially overtake Cade based on team needs. USC Trojans center Evan Mobley and G-League Ignite star Jalen Green. But tonight's performance should make teams realize that they're better off creating space for a player like him.
ADVERTISEMENT
Article continues below this ad
Throughout the season so far, Cunningham has been brilliant across the court. He is skilled at finishing tough shots at the rim, he can pull-up from anywhere on the court, and his best skill which is playmaking hasn't even been utilized at Oklahoma State. Being 6'8 is just another advantage for him. No other prospect is as versatile as him.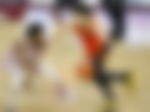 When he enters the NBA, Cunningham is going to be a triple-double threat every night. Currently, he is projected to go to the Rockets or the Pistons at #1, and if that happens, he could potentially be a franchise-saving draft pick for those two teams.
ADVERTISEMENT
Article continues below this ad