WATCH: Pirates Guard Misses Both Free Throws After Hilariously Claiming He 'Ain't Never Missing'; Becomes NCAA Basketball Meme
Published 03/06/2021, 1:00 PM EST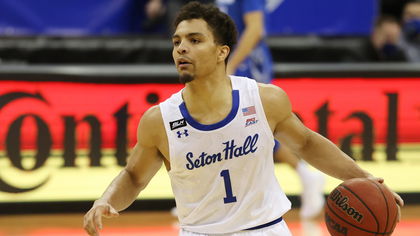 ---
---
Many players have the physical ability to play, but their mental ability holds them back. Some players lack the confidence to keep their bearings in big games while others suffer from overconfidence. Seton Hall Pirates guard Bryce Aiken recently fell victim to the latter in a recent NCAA Basketball game.
ADVERTISEMENT
Article continues below this ad
During their last game against the UConn Huskies, Aiken was sent to the line to take two free throws. He was perfect from the line all season, shooting 23-23 of his free throws.
So as he shot his first shot, Aiken said aloud, "I ain't never missing this," but proceeded to miss his first free throw of the season. As the defenders and the commentators burst out laughing, Aiken missed the second one as well, inviting further laughter. His confidence would have helped him to stay perfect prior to this game. But against the Huskies, Aiken's overconfidence hilariously got the better of him.
ADVERTISEMENT
Article continues below this ad
Even the best of shooters miss free throws, but saying stuff like that and then missing is nothing but hilarious.
NCAA Basketball: Can the Seton Hall Pirates end their season with a win?
In that last game, the Pirates lost to the Huskies. They were desperate for a win to boost their hopes of qualifying for the NCAA tournament. But that made it three losses in a row for them and is likely to keep them out of contention now. They will still not lose hope yet, as they attempt to end their season with a win.
ADVERTISEMENT
Article continues below this ad
The Pirates are on the road as they face the St. John's (NY) Red Storm. They sit just one spot below the Pirates in the Big East standings, and a loss could see them switch spots.
Poor shooting let them down in their previous game, and the Pirates will aim to improve on that front tonight. Sandro Mamukelashvili will once again carry the load on offense. The sophomore has a good chance of being drafted if he can continue his form.
ADVERTISEMENT
Article continues below this ad
Jared Rhoden and Myles Cale will have to overcome recent struggles and fix their poor shooting. The Red Storm defense isn't consistent, and if they get off to a hot start, the Pirates will have a good chance to win. The Pirates will aim for a win and hope it is enough for Selection Sunday.