WATCH: Syracuse Coach Jim Boeheim Invalidates Reporter's Opinion Because He is "5'2"
Published 03/03/2021, 11:15 PM EST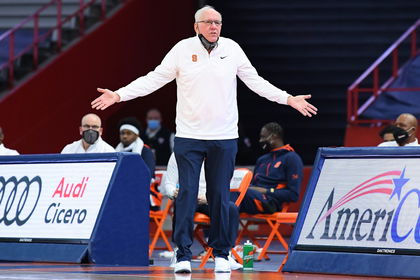 ---
---
The Syracuse Orange finished their regular season tonight with a win over the Clemson Tigers. They managed a ten-point win despite a poor performance overall. During the post-game interview, coach Jim Boeheim made some interesting comments, that have divided opinion.
ADVERTISEMENT
Article continues below this ad
Following their win over the North Carolina Tar Heels, Sports Illustrated's Matthew Gutierrez tweeted about the impact provided by Kadary Richmond and Jesse Edwards. He said that if they had played more since the start of the season, the Orange would have a better record.
If Richmond and Edwards had played the minutes they have deserved, Syracuse is probably somewhere around 17-5 overall this season and in the Big Dance. What a difference they provide.

— Matthew Gutierrez (@MatthewGut21) March 2, 2021
ADVERTISEMENT
Article continues below this ad
Referencing this statement, Boeheim had a sarcastic and sly remark addressed to Gutierrez.
"If I played Jesse and Kadary, we probably would be 22-2 now," Boeheim said. "I just didn't see that, I couldn't figure that out by myself after 45 years. I needed a reporter to figure that out, whose never played basketball and is 5-foot-2."
Coaches can obviously defend their own tactics. But to do that while throwing around personal and distasteful remarks like this is completely unnecessary. While there are a few fans who didn't mind these comments, a majority have expressed their discontent.
Boeheim says via Zoom that I have never played basketball before and I am 5-foot-2, so I am not qualified to have an opinion on Syracuse.

— Matthew Gutierrez (@MatthewGut21) March 4, 2021
Jim Boeheim overworks his starting lineup to grind the win
The Orange pipped the Tar Heels by two points when they played on Monday. Boeheim let Kadary play 31 minutes off the bench while Edwards got 24 minutes.
Despite the promise they showed in that game, their minutes were reduced against the Tigers. Kadary played just 18 minutes while Edwards played just three minutes.
In Boeheim's defense, Kadary struggled with his shot, going 0-4. But he created chances and got four assists and also converted 5-6 of his attempts from the charity stripe.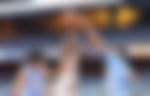 Boeheim might have gone defensive and overworked his starting lineup because of the Tigers' form. They arrived with a five-game winning streak, including a win over the Orange last month.
So, Boeheim had to switch around some tactics, and it worked this time as they got their revenge.
ADVERTISEMENT
Article continues below this ad
Will the Orange qualify for the NCAA tournament?
According to TeamRankings, the Orange have just a 29% chance to make the NCAA tournament. Their 15-8 record is far from impressive, and it could deny them an at-large bid on Selection Sunday.
Their one win in three ranked games doesn't help their case either, and now they have to for a few more days to find out their fate.
ADVERTISEMENT
Article continues below this ad