Will Bronny James' Meniscus Injury Affect His Future as a Player?
Published 02/26/2021, 2:19 AM EST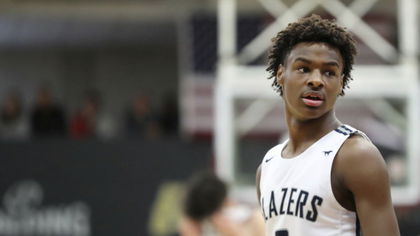 ---
---
Sierra Canyon star Bronny James revealed he suffered an injury a few weeks ago during practice. He mentioned he had torn his meniscus on a Twitch stream, and that that was the reason behind him being out of action recently.
ADVERTISEMENT
Article continues below this ad
According to ESPN and the Los Angeles Daily News, Bronny has now undergone surgery for this injury. That will most likely rule him out of the season but will give him ample time to rest and recover. The 6'2 combo guard played all 34 games for the Sierra Canyon Trailblazers, but because of his reduced role, he averaged only 4.1 points in 15 minutes per game.
Should the Sierra Canyon Trailblazers be worried?
ADVERTISEMENT
Article continues below this ad
A torn meniscus is a common injury in basketball, and many NBA players like Chris Paul and Derrick Rose have suffered from it. While injuries are never good for anyone, a positive is that most of these players have recovered successfully from this injury. Bronny will also hope he can make a successful recovery like those two elite point guards.
The Trailblazers need to give Bronny enough time to recover from this injury. He will have a bigger role with the team which is why he needs to be at his best next season. He is currently the number 25 ranked prospect from the 2023 class. There's no doubt that he can ascend in those rankings next season when he is able to feature more.
He may be forced to sit out now, but he will get a better chance to prove he is worth all the hype next season. Currently, he only has a confirmed offer from Kentucky, but this could change after his performance once he recovers.
LeBron James releasing Sierra Canyon docuseries featuring Bronny James
ADVERTISEMENT
Article continues below this ad
The Sierra Canyon Trailblazers' 2019-20 campaign was iconic. It had some of the most talented prospects teaming up with players such as Brandon Boston Jr, Ziaire Williams, Zaire Wade, and Bronny. While his son didn't have the biggest role on the team, LeBron James was inspired to produce a docu-series on their championship-winning run.
It is titled Top Class: The Life and Times of the Sierra Canyon Trailblazers and will release tonight on Amazon Prime. The big names featuring in it will certainly make it a must-watch for basketball fans.
ADVERTISEMENT
Article continues below this ad