Neymar Jr apologized to the team after Copa controversy
Published 06/23/2015, 11:12 AM EDT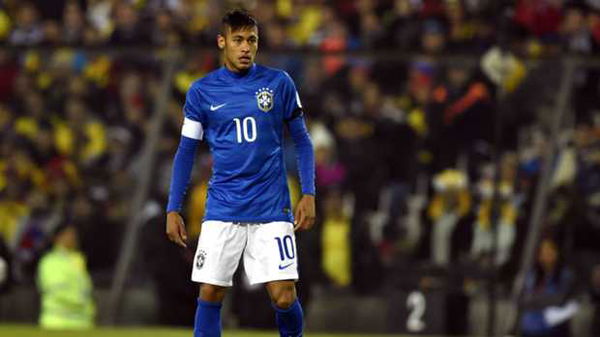 ---
---
Brazil captain, Neymar Jr apologized to his national team mates after getting suspended from the Copa America for the next 4 matches, which essentially meant that the tournament was officially over for him. He was penalized with a red card after the final whistle for a headbutt before he allegedly waited in the tunnel to insult the referee. Brazil FA were expected to lodge a complaint against the decision with the CONMEBOL but following a meeting with Neymar and the team's coaching staff, they decided to withdraw the appeal.
Neymar penned down a long Instagram post to apologize to the team and to explain why exactly he decided to leave Chile.
ADVERTISEMENT
Article continues below this ad
Image Link – http://www.neymarjr.net/wp-content/uploads/2013/12/neymar-wallpaper-brazil-7.jpg
"I waited with great faith and hope in the hope of still being able to serve the Brazilian national team in this Copa America. Unfortunately, it will not be possible.
ADVERTISEMENT
Article continues below this ad
I know that my presence in the group is important, as well as of each of the other players, more than ever, they must completely turn their thoughts to the upcoming matches ahead.
I was given the duty of being one of the group leaders and as captain take responsibility for bringing glory and making decisions, whether wrong or right. And this was a moment of decision.
Regardless of where I'll be from now on, I'll always follow Brazil, rooting for the success of my teammates, but staying here training is killing me inside… With no joy.
It's awful to train without preparing for something and this could lead to an accidental injury which would make it even more difficult.
ADVERTISEMENT
Article continues below this ad
I needed to express this feeling to the group and the coaching staff who have always supported me. Staying here could bring a bad environment of "Concentration" issues that would take the focus away from the main purpose of Brazil.
I apologize to my colleagues for putting myself in this situation, but I'm sure this was an important learning curve in my career.
Good luck Brazil!!"
ADVERTISEMENT
Article continues below this ad
Neymar's ban started with the five-time world champions qualifying for the quarter-finals of Group C on Sunday after defeating Venezuela 2-1 in Santiago.
He has received messages of support from the Barca fraternity as Lionel Messi gets added to the long of Barca men that voiced their opinion in support of the 23-year-old.