NERVY TENNIS: Rafael Nadal Saves 2 Match Points and Overcomes Denis Shapovalov in 3 Hours and 30 Minutes at Italian Open 2021
Published 05/13/2021, 11:41 AM EDT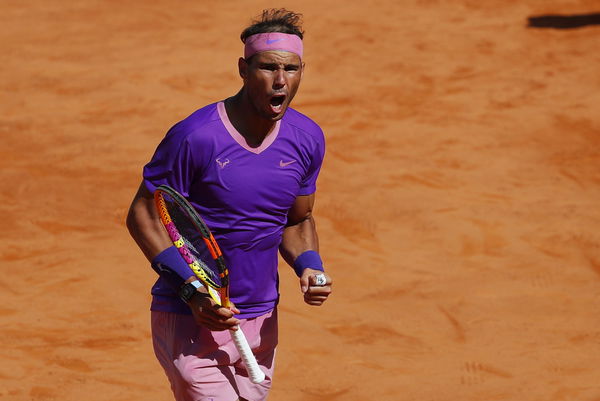 ---
---
Rafael Nadal defeated Denis Shapovalov in a three-hour thriller to reach his 13th consecutive quarterfinals at the Italian Open 2021. He saved a few match points and made a brilliant comeback in the match to deny the Canadian.
ADVERTISEMENT
Article continues below this ad
Denis Shapovalov in blistering form against Rafael Nadal at Italian Open 2021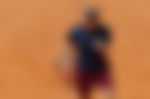 Early on, Shapovalov was brave with his returns. He broke Nadal in the first game itself to make a dream start in Rome. He quickly took a 2-0 lead and already had a handful of forehand winners. As Shapovalov tried to increase his lead, Nadal's baseline shots were looking ordinary against the Canadian. As Shapovalov dictated the play with his forehand, he quickly took a 4-0 lead in the opening set.
ADVERTISEMENT
Article continues below this ad
The first step of recovery for Nadal was to improve his serve. So at 4-0, Nadal improved his serve but was never out of danger. Nadal was in the fringes of a possible bagel, but he held on to his serve to open his account for the match. Nadal showed why he is a nine-time champ in Rome, by putting through some incredible passing shots to get one break back at 4-2. And from 4-0 down, Nadal was quickly back at 4-3.
Shapovalov resumed his high-intensity service along with his pinpoint winners to lead the opening set 5-3. Shapovalov pushed hard to finish the set on Nadal's serve. But Nadal took an initial 40-15 lead on his serve at 5-3. What followed after this was Shapovalov's great offensive and defensive game. He pounced on Nadal's weak second serve and broke his defense.
Nadal tried his best to avoid losing the set, but Shapovalov's defense thwarted all his efforts. The last game of the set lasted over 20 minutes as Shapovalov broke Nadal again to clinch the opening set 6-3.
Rafael Nadal's comeback
Shapovalov continued his excellent serve. It was unreturnable by Nadal. Shapovalov continued his blistering winners as he broke Nadal to take a 2-0 lead in the second set. But all was not lost for Nadal as he caught Shapovalov and saw a break point. But the Canadian's form and intensity never dipped as he saved it to take a 3-0 lead.
Nadal knew that to break Shapovalov he had to find the angles and lines. In the process, his unforced errors count increased. Nadal was close to being 4-0 behind in the second set, but saved it to open his account in the second set. However, Nadal used all his clay-court expertise to put Shapovalov's serve under the scanner.
As Shapovalov failed to put in his first serves, Nadal pounced and saw numerous opportunities to break. He converted on the third break point to bring the second set back on serve at 3-3. From here Nadal took charge as Shapovalov struggled. From 3-0, Nadal won five games in a row to take the set, 5-3, and serve for the set at 5-4. Nadal showed his class and took the second set 6-4.
Rafael Nadal saves match points and wins a marathon
After a slump in the second set, Shapovalov returned to his old prowess at the start of the third set. However, the Canadian was equally matched by Nadal. Rafa was at his best as he served well, and his looping forehand was at its prime. At 2-1, Shapovalov took a lot of risks on Nadal's serve. Rafa produced some brilliant defense but Shapovalov broke Nadal to take a 3-1 lead.
ADVERTISEMENT
Article continues below this ad
However, Nadal's forehand came back to haunt Shapovalov as Rafa easily broke the Canadian to bring the final set back on serve. At 3-3, Shapovalov's serve was on the test, but Nadal was just short of breaking him. Rafa continued his exemplary serve to level the set 4-4. And now the tide was slowly moving towards Nadal.
Serving at 5-5, Shapovalov put in everything to save his service game. He made some errors but redeemed himself with some gritty hitting. At 6-5, Shapovalov saw two match points saved by Nadal. Both the players were peaking and everyone was on the edge of their seats as Nadal saved the match points and sent the match into a tiebreaker.
Shapovalov was tired and Nadal was in the driving seat early on. He raced to a 4-1 lead. As Nadal switched on his amazing defensive skills, he served for the match at 6-3. He won the tiebreaker 7-3 and clinched the marathon 3-6, 6-4, 7-6.
ADVERTISEMENT
Article continues below this ad