New Angle of Hulkenberg Crash Surfaces
Published 11/29/2018, 8:13 AM EST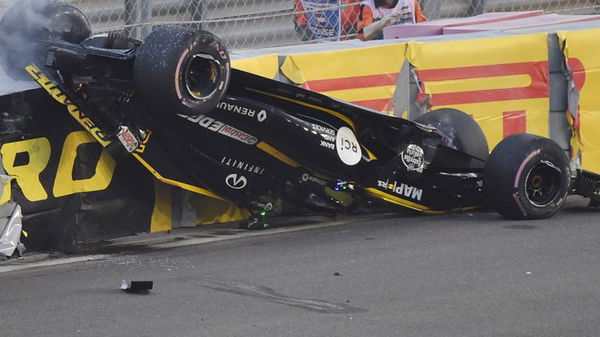 During the season-ending Abu Dhabi GP, there was a frightening crash in the opening lap. Renault's Nico Hulkenberg and Haas' Romain Grosjean tapped tyres, sending the former into a double somersault. Hulkenberg ended up on his roof and it took him a while to be extricated. Now, new footage has emerged, showing another angle of the accident.
ADVERTISEMENT
Article continues below this ad
A video posted by Antonina Rolina showed what the accident looked like from the stands on the back-straight. Like all other angles, it looked equally terrifying to watch, and it was gratifying to see Nico walk away.
ADVERTISEMENT
Article continues below this ad
The incident was investigated by the FIA, but no further action was taken. In the immediate aftermath of the crash, Grosjean asked if the German was alright. Haas informed the Frenchman that he was fine and talking.
There was a slightly hairy moment as the rear of the stricken Renault caught fire. This caused Hulkenberg to frantically scream to get him out of there. Luckily, the marshal response was swift and the crisis was averted. So, all Renault needed to worry about was a battered car.
"The marshals reacted very quickly," said Hulkenberg.
"They did a good job. It was not the most comfortable situation to be in. There was a little barbeque at the back, so I just wanted to get out. You feel pretty helpless."
ADVERTISEMENT
Article continues below this ad
What made the crash even scarier was the fact that Hulkenberg was belted into his car for more than three minutes.
Race director Charlie Whiting insisted the Halo didn't prevent the Renault driver from making his escape.
"Once the car was back on its wheels, which had to be done carefully he was able to get out by himself," he said.
ADVERTISEMENT
Article continues below this ad
"It was very controlled from what I could see. Our medical delegate was more than happy with the way it was done. It all worked exactly as it should."