New Manager, New Philosophy, New Manchester United
Published 09/01/2014, 10:04 AM EDT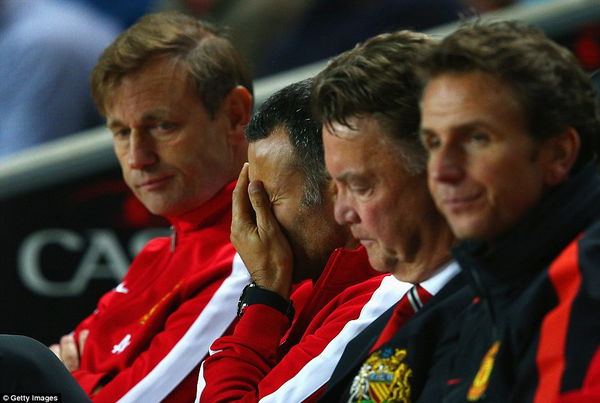 ---
---
Manchester United had already announced before the start of the World Cup that Louis Van Gaal will be taking over the managerial position at Old Trafford. Meanwhile, Louis Van Gaal was earning a lot of plaudits and the confidence of a lot of Manchester United supporters during this year's FIFA World Cup. His mediocre Holland squad surprisingly finished 3rd in the competition and Van Gaal decided to skip the holiday and move on to start a new challenge. After a smooth and successful preseason in the United States of America, Manchester United started off with a rocky start to the Premier League after losing to Swansea City at Old Trafford on the opening day of the season. Something, which they had not done for a long time. Results which followed weren't pleasing either as they drew both of the next two games scoring only one goal and conceding one.
ADVERTISEMENT
Article continues below this ad
So who is to blame? Is Louis Van Gaal really the preseason one? Early results have left fans and pundits scratching their heads and have their doubts over Van Gaal's philosophy and the 3-5-2 formation which he's trying to implement at Old Trafford. A football club which is known for its wingers and full backs to excite the crowd, get them off their seats and spread the game, suddenly doesn't have any wingers in its gameplay. Instead of 2 wingers and 2 full backs on either flanks, they now just have 2 wing backs. What the Dutchmen is trying to do is to totally change the philosophy of not just a football club but also of its fans, of its rivals and maybe the entire country of England. He's trying to mould the players of a football club in a philosophy which is totally new to them and the reason of United not able to thrive under him until now is that the players haven't been able to figure out what they're supposed to do. Not a single player in the current Manchester United has been brought up like that. Be it the striker, the midfielders or the centre halves. The only time some of these players would have played with 3 at the back is for the last 15 minutes of a game when Sir Alex Ferguson's Manchester United were about to stage one of their magnificent comebacks.
The 3-5-2 formation basically requires the wing backs to cover the flanks while the two wide central defenders cover the flanks in their absence. That leaves the centre half as the lone defender in the centre of the pitch. That's where the role of the player in the no.6 position becomes ever more important who is supposed to aid the centre half defensively while the rest of the squad can simply concentrate on attacking and not worry about defending. Until now, United have been relying on Darren Fletcher to be that player. Someone, who was fighting for his life only a year ago. Absence of an excellent number 6 meant, Juan Mata had to drop deep to get the ball and Wayne Rooney had to shed his attacking duties, also to drop deep to fill the void which was created when Mata dropped back to get the ball which resulted in Manchester United scoring only 2 goals in 3 games. A certain Ander Herrera or new signing Daley Blind could be answer to that problem.
ADVERTISEMENT
Article continues below this ad
New signing Àngel Di Maria was deployed as left centre midfielder in his debut match against Burnley. He was played in the exact same position where he thrived for Real Madrid last season and was the best player of the season by a mile. He had Fabio Contreao or Marcelo as the full backs at Real Madrid and he will have Luke Shaw to do the same at United. Also, the absence of new signings Ander Herrera and Luke Shaw have not helped the club either with Van Gaal relying on Fletcher and Ashley Young to do their jobs in their absence. Manchester United also seem to miss Rafael who is the perfect fit to Van Gaal's 3-5-2 and will fulfil the right wing back's role in a way Van Gaal expects. A system in which width can only be provided by the wing backs is currently being provided by Ashley Young and Antonio Valencia who are as predictable as predictable can get. Put Luke Shaw and Rafael instead of them and it suddenly looks like a sound team.
Louis Van Gaal has stated that it will take time for him and his philosophies to bed in. It will take time for a club to forget everything what Sir Alex and even David Moyes ever taught. When his players completely learn what he is trying to teach, and he gets the players he is trying to get in, Manchester United will surely be a force. Till then, United fans need to wait and have faith in this man's ambitions and capabilities. Manchester United have spent nearly 200 million pounds this summer as a part of the rebuilding process and are also trying to get Radamel Falcao on a season long loan deal considering Robin Van Persie's injury problems. But you can't expect the likes of Wayne Rooney, Juan Mata, Robin Van Persie or even Radamel Falcao to score when you have Ashley Young or Antonio Valencia assisting them. Manchester United need Rafael, Luke Shaw, Ander Herrera and Daley Blind fit soon and for as long as possible so that their attacking force which gets dangerous after every passing transfer window doesn't look ordinary like it has for the last 12 months.