New 'Ninja' Imposter Mod in Among Us
Published 02/04/2021, 1:10 PM EST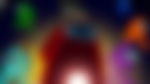 ---
---
A new 'Ninja' Imposter mod has come up in the Among Us community. The fun-oriented title is the perfect type of game to play with friends to avoid monotonous gameplay. Mods like the proximity chat and the addition of various custom roles have shot the game into limelight and earned it acclamation from fans.
ADVERTISEMENT
Article continues below this ad
What is the 'Ninja' Mod in Among Us?
The Ninja mod gives the imposters ninja-like abilities, which they must use to kill crewmates without being caught. The overall objective of the game remains the same.
ADVERTISEMENT
Article continues below this ad
'Ninja' imposters can only use throwing stars to kill crewmates. Once they activate the mod, the regular 'Kill' button gets disabled and imposters must use the 'Throw Star' button. Additionally, the imposter can use smoke bombs that blind nearby players. There is a 20-second cooldown for the smoke bomb and an 8-second cooldown for the throwing stars.
The game becomes a challenge for the imposters, as they cannot select which crewmate they kill. The mod provides a crewmates icon on the bottom left at the start of each round. The Ninja can only kill the player whose icon they see at the bottom left during that round.
ADVERTISEMENT
Article continues below this ad
YouTuber SSundee, who is famous for testing Among Us mods, tested out this mod as well. He has made videos on the Spy Role, Engineer Role, and Vampire mods as well. In his video, he cleverly uses the smoke bomb to disguise his kills or find vents to escape. SSundee also discovers that the impostor can use throwing stars from vents which seems to be an 'overpowered' mechanic.
With new mods being developed every day, this Twitch mainstay doesn't seem to be content with its successful 2020 as it looks to outdo itself in 2021. The game has also done wonders for many Twitch streamers, most notably Rachel 'Valkyrae' Hofstetter. She won the award for the most-watched female streamer because of her Among Us grind.
ADVERTISEMENT
Article continues below this ad
More than its numerical success, Among Us, has redefined its genre. By creating a game revolving around a player's unique in-game approach, they have brought together all kinds of creators and their fans.