New Villa boss Garde can't guarantee top flight survival
Published 11/06/2015, 5:48 AM EST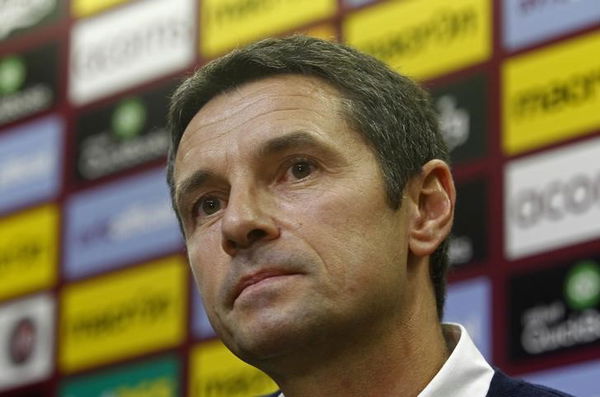 REUTERS – Aston Villa's new manager Remi Garde believes he can reverse his side's wretched run and lift them off the bottom of the Premier League but stopped short of guaranteeing their top flight survival next season.
ADVERTISEMENT
Article continues below this ad
Villa began the season by beating Bournemouth but have since lost nine of 10 league games, including their last seven, a run that resulted in the club parting company with Garde's predecessor, Tim Sherwood, last month.
Villa, ever present in the Premier League since its creation in 1992, announced that 49-year-old former Olympique Lyonnais coach Garde had signed a four-year contract on Monday.
ADVERTISEMENT
Article continues below this ad
Garde said fans should not expect miracles.
"I'm not a dreamer or a magic man, I have strong ideas," he told reporters ahead of his first game in charge against leaders Manchester City on Sunday.
"I haven't the certainty we will stay in the Premier League because the situation we are in is difficult, but I have a strong belief we will do it."
Garde, who watched from the stands as Villa slumped to a 3-1 defeat to Tottenham Hotspur on Monday, said he would have rejected the job if he felt he could not turn things around.
"If I didn't think I could change things I would have said 'No, this job is not for me', but I've got the hope that we can do it.
"I just want to be manager of a winning team. As for the way we are going to do it, I need more time for that … but I have not come to prepare for next season in a lower division."
Villa were hit badly by the sales of players such as striker Christian Benteke to Liverpool and midfielder Fabian Delph to Manchester City in the transfer window, while new recruits such as Jordan Ayew and Adama Traore have so far struggled.
Garde said he had the final say on all transfers but was happy to work within Villa's recruitment structure.
ADVERTISEMENT
Article continues below this ad
"I think it's normal to have a sporting director — I had one at Lyon, where I also had a big chairman, a chief executive and a chief scout," he said.
"What is normal is that I will have the final say, which is very important for me, but I cannot watch games all over Europe."
Garde also said that despite the large French connection at the club, players must communicate with each other in English.
ADVERTISEMENT
Article continues below this ad
"The players can talk French one to one in my office," he said. "Everywhere else it's English."
(Reporting by Shravanth Vijayakumar in Bengaluru; Editing by Peter Rutherford)