F1 Drivers' Day Off Carlando Edition: Sainz Makes Norris a 'Happy Boy' With Golf Game
Published 07/01/2021, 9:10 AM EDT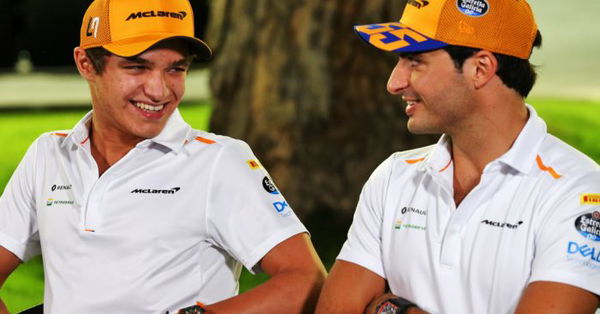 ---
---
The Carlos Sainz – Lando Norris duo was easily one of the healthiest teams in the paddock. With the right blend of competition, respect, and sportsmanship, their friendship turned into a bromance.
ADVERTISEMENT
Article continues below this ad
And even after Sainz's shift to the Prancing Horse, the two are seen joking around the paddock together. Though Norris wasn't too happy about the Spaniard's decision, the two have been on really good terms with each other.
Recently, the duo took to play golf with Sainz's current teammate, Charles Leclerc, on their day off ahead of the race this weekend. F1 journalist Chris Medland tweeted about their outing.
ADVERTISEMENT
Article continues below this ad
In conversation with Sainz, the 26-year-old admitted defeat to Norris saying, "He's going to be so happy seeing this. If we want to make Lando a happy boy, I should say yes."
The Carlando bromance between Lando Norris & Carlos Sainz
McLaren's pairing of the two extremely talented drivers gave the world 'Carlando'. The two had a relationship where one pushed the other to grow and become a better driver- something that is rare to see among teammates.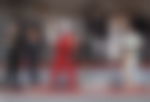 Formula 1 is one sport in which your teammate is your biggest competitor, and because of this, things can get toxic quick. However, the Englishman and the Spaniard shared something so refreshing, the entire F1 community loved to see it.
After spending a couple of years in papaya, the two have stayed strong, and this could especially be seen at the end of the Monaco Grand Prix this season. Norris and Sainz celebrated sharing the podium with each other, which was followed by an adorable champagne fight.
ADVERTISEMENT
Article continues below this ad
Carlando isn't the first of F1 bromances. We have Vettel and Raikonnen, Ricciardo and Verstappen, Berger and Senna, to name a few. What defines these partnerships is that the two are rivals on track and friends off the track. With Lando and Carlo, there is something different. Something so invigorating to watch, it only makes you wish you were a part of it.
Read this story:
ADVERTISEMENT
Article continues below this ad
Toto Wolff Swears, Valtteri Bottas Bares: Funniest Moments From Drive to Survive