LeBron James & Anthony Davis Among Kendrick Perkins' NBA Award Winners
Published 03/19/2020, 3:36 AM EDT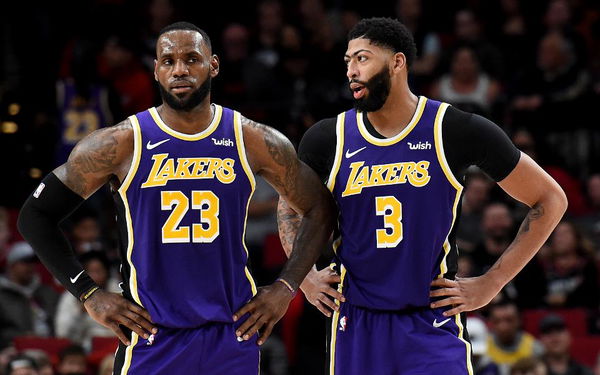 LeBron James would win the NBA Most Valuable Players (MVP) award this season if former player Kendrick Perkins was to decide the winner.
Last year's winner Giannis Antetokounmpo has continued his form and has been one of the favorites to win the award again this season. With strong performances in recent games, James was making a case for himself over Giannis just when the NBA suspended its league. However, Perkins believed James has shown enough to win his vote.
The former Boston Celtics player took to twitter to predict the winners of the 2020 NBA awards. It also included James' teammate Anthony Davis. He backed the three-time NBA blocks leader to win the Defensive Player of the Year award.
ADVERTISEMENT
Article continues below this ad
Among other awards, he predicted Ja Morant to win the rookie of the year award ahead of Zion Williamson while the Jayson Tatum and Dennis Schroder for the Most Important Player and Sixth Man of the Year awards respectively.
Meanwhile, Perkins backed Toronto Raptors head coach Nick Nurse to win the Coach of the Year award. After leading his team to the NBA CHampionship last season, Nurse has successfully managed to regroup his players after their star man Kawhi Leonard left for the Clippers last summer.
MVP- LeBron James

MIP- Jayson Tatum

DPOY- Anthony Davis

Sixth Man Of The Year- Dennis Schroder

ROY- Ja Morant

COY- Nick Nurse

— Kendrick Perkins (@KendrickPerkins) March 18, 2020
Kendrick Perkins believes NBA players are not above others amidst the Coronavirus pandemic
ADVERTISEMENT
Article continues below this ad
Shortly after Brooklyn Nets announced four positive coronavirus cases, NBA spokesman Mike Bass said the league was pushing for all teams to receive coronavirus tests. This did not go well with the masses. New York city mayor said that the NBA players must not go ahead of the ill patients in hospitals.
Perkins, currently an NBA analyst, agreed with the mayor saying NBA players must not be given preferential treatment amidst the global crisis.
"I actually agree with the mayor. Just because we're athletes – that shouldn't put us above everyday, hard-working people," he said. "I'm pulling it for the NBA family. But right is right and wrong is wrong. He (the mayor) made a valid point."
ADVERTISEMENT
Article continues below this ad