NBA Players Given a Terrible Warning, Could Lose up to $654 Million If Situation Persists
Published 03/14/2020, 9:20 AM EDT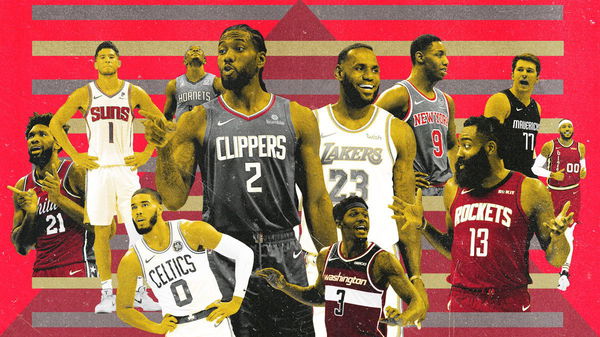 ---
---
The National Basketball Association now has warned players that their paycheck could suffer a cut if the rest of the NBA season is lost amid coronavirus pandemic. ESPN's Adrian Wojnarowski reports.
ADVERTISEMENT
Article continues below this ad
The letter forewarned of a formerly settled "Force Majeure" condition which speaks of teams' financial obligations to players in times of disaster. Under that pact, owners are allowed to diminish player pay rates in conditions like these(COVID-19).
Know more about "Force Majeure Event"
ADVERTISEMENT
Article continues below this ad
A "Force Majeure event" refers to an event that "makes it economically impracticable for the NBA to perform its obligations" and is described as the following, per Article XXXIX, section 5(a) of the CBA.
This covers multiple serious scenarios like Wars or war-like action including sabotage, terrorism or threats of sabotage or terrorism; explosions; weather or natural disasters, including, but not limited to, fires, floods, droughts, hurricanes, tornados, storms or earthquakes; and any governmental order or action (civil or military) and in the current scenario an epidemic(Coronavirus).
NBA Players could lose $654million
If the remaining NBA season wipes out because of the novel COVID-19. Then players could potentially lose $654million according to an estimate by Spotrac.
According to Michael Ginnitti, co-founder and editor of Spotrac, which tracks the salaries of pro players and payrolls of teams. Players could suffer from some pretty hefty pay cut if the season gets canceled.
Below is the summary, with LeBron James as an example:
The #NBA CBA states that if games are cancelled, players will forfeit 1/92.6th of their salary per game missed (5 preseason, 82 reg. season , 5.2 postseason).

In other words if basketball doesn't resume this season, LeBron James will lose about $8.95M.

Suspended!=Cancelled

— Spotrac (@spotrac) March 12, 2020
This pay cut is all thanks to that clause which is mentioned above. That is to say, clause clearly states that every game lost to the "Force Majeure Period" would result in a salary reduction of "1/92.6th of the player's Compensation for the Season(s)."
Although NBA owners till now have not given any such indication to apply the clause. But things could change very abruptly in the future. So it's better to save that cash now.
ADVERTISEMENT
Article continues below this ad
And by the looks of it, only CJ McCollum has all things planned out for the future:
ADVERTISEMENT
Article continues below this ad