"I Cannot Stress Enough How Disturbing and Oppressive it is": NBA Rookie Requesting Big Changes from His College
Published 06/13/2020, 3:02 PM EDT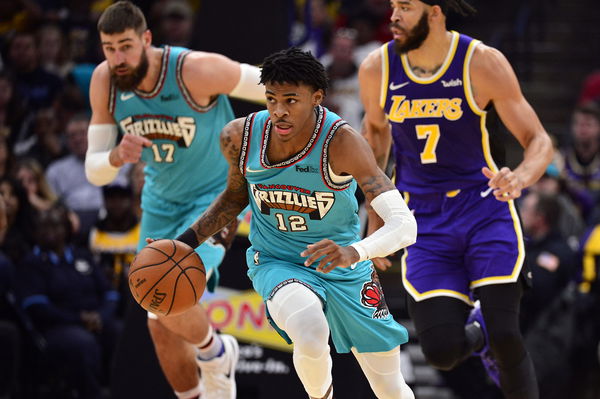 ---
---
NBA rookie Ja Morant wrote to a Kentucky judge asking to remove the Confederate Statue in Murray.
ADVERTISEMENT
Article continues below this ad
"I am writing to ask that you immediately remove the Confederate statue in the court square of downtown Murray," he wrote in a letter obtained from Twitter.
Morant played two years for the Murray state university between 2017 and 2019 before coming into the NBA. He wrote he was proud to have been part of a university that has people from various backgrounds. But he was not happy that the city still honored a confederate war general.
ADVERTISEMENT
Article continues below this ad
"I am extremely proud of my ties to Murray State. I am honored to have spent two years at the University. My college experience positioned me for success and truly helped me achieve my dream," he wrote.
"It is full of people, families, and students from different backgrounds. As a young black man, I cannot stress enough how disturbing and oppressive it is to know the city still honors a Confederate War general defending white supremacy hatred."
NBA rookie Morant feels the time is right to act
Built during the period of racial conflicts, the Confederate monuments all over America have received a lot of backlash in the recent past. Many protests have led to the removal of these monuments at a few locations. A few states have passed laws hindering the removal of these monuments.
Morant, in his appeal for the removal of the monument in Murray, believed the time was right to act on it. The death of George Floyd has led to nationwide protests and has started the Balck Lives matter campaign all over the nation. Morant pleaded for taking a stance against hatred and oppression.
ADVERTISEMENT
Article continues below this ad
"Given recent events and the Black lives matter movement, it is necessary to act now. We can't change the culture of racism unless we change the celebration of racism. Please help us take a stand and remove this symbol of hatred and oppression," he wrote.
During the ongoing protests, a few of these monuments have come under attack. Recently, a statue of a former governor and Confederate leader outside the Georgia Capitol was vandalized.
ADVERTISEMENT
Article continues below this ad