While recent rumors suggested Bradley Beal moving to Brooklyn Nets, it now seems that he is not moving anywhere in the near future. Fred Katz of The Athletic believes Washington Wizards have shown no signs of their star man leaving anytime soon.
"Beal is telling the Wizards the same things he's telling the public," he explained. "And after he signed an extension less than a year ago, Washington is not operating as if he's gone when this contract expires."
Beal has always been appraisive of the Washington franchise. He has been a part of the Wizards since the start of his NBA career. He came into the team as the third overall pick in the2010 NBA Draft. Over the years, he has significantly improved as a player and became the star man in the team.
He earned two consecutive All-Star selections in 2018 and 2019. While he was not a part of the 2020 All-Star game, many believed he deserved a place. After all, he had a great season in terms of scoring. Prior to the league's suspension, Beal was averaging 30.5 points and 6.1 assists per game. His scoring tally was second only to James Harden in the league.
Bradley Beal has recently talked about his intentions to stay with Washington Wizards for a long time
Beal signed a two-year contract extension with the Wizards in October, but there seems to be a good chance that he might stay with the team well beyond the two years. In an interview in March earlier this year, Beal talked about wanting to stay with the Wizards for a long time.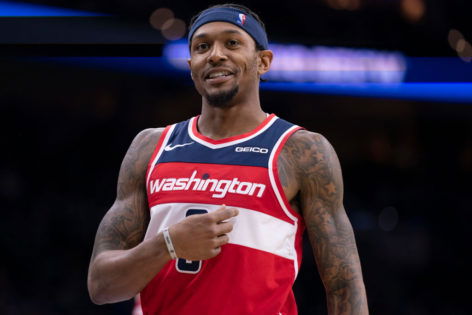 "Wanting to have my jersey retired in Washington one day played a factor in me re-signing. Every night we walk into that arena, there are five names up there. Those are some of the five greatest to ever touch a basketball. To be on pace to breaking the records that I am now and to be here for eight years already, that's special. And coming into the prime of my career, you don't know how much longer you have," Beal said in the interview.