ON THIS DAY: "The Notorious" Conor McGregor Made His MMA Debut
Published 03/09/2020, 4:55 AM EDT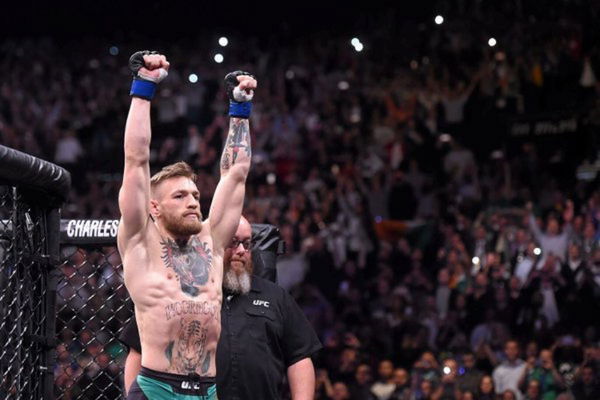 ---
---
Conor McGregor is undeniably one of the most popular athletes in the world. His UFC fight against Khabib Nurmagomedov in 2018 drew a record viewership for an MMA event. On the other hand, his boxing match against Floyd Mayweather is the second-best in terms of viewership. Unfortunately, a clear footage of the Irishman's first MMA fight is still unavailable.
ADVERTISEMENT
Article continues below this ad
12 years ago, when Conor McGregor was just another name, he made his professional debut against "The Dumptruck" Gary Morris. At the time, McGregor was four months shy of his 20th birthday. Two rounds into his first professional fight, McGregor knocked his opponent out with a series of hard punches to Morris' head.
ADVERTISEMENT
Article continues below this ad
Conor McGregor evolved from just another kid to one of the best
Six years after the fight, now that McGregor is much more than just a name, Morris recalled the first fight.
"At the time it was just two kids in a cage, fighting. You could go to any pro show or any amateur show today and see two lads starting out, and that's what it was like," Morris said.
ADVERTISEMENT
Article continues below this ad
Little did anyone know that one of those kids would go on to become one of the best in the world.
"He was obviously in the southpaw stance, but his style was a lot different," he said. "Nowadays, his boxing is a lot cleaner than it was back then. I remember a lot of wild overhand lefts. Conor was a lot wilder back then, he wasn't as disciplined."
McGregor's discipline did bring him a long way. It was his discipline that saw him stay as one of the fittest athletes when he came back after earlier this year after an absence of over a year.
McGregor had fought one of the most famous bouts in 2018 against Khabib. After losing the fight via submission in the fourth round, McGregor took some time away from the sport. The legend announced his retirement on social media in 2019. However, he made a memorable return with a match against Donald Cerrone in a Welterweight fight at UFC 246 in January. McGregor, quite remarkably, won the fight in 40 seconds, knocking out the American with ease.
ADVERTISEMENT
Article continues below this ad