Twitter Expresses Disappointment Towards UFC 248 Main Event
Published 03/08/2020, 3:20 AM EDT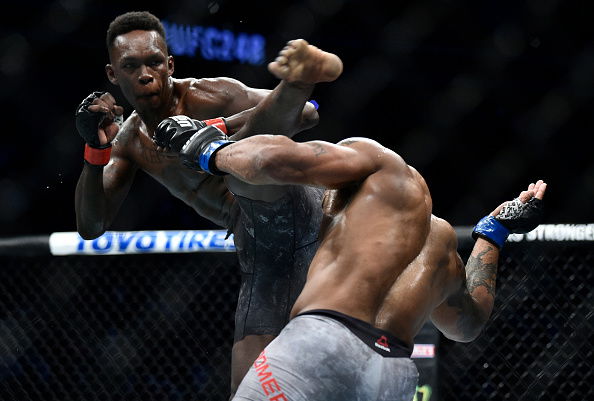 ---
---
Israel Adesanya remains the UFC Middleweight Champion after defeating Yoel Romero at UFC 248 on Saturday. For the headline fight of the pay per view bout, the fight wasn't as thrilling as many expected it to be.
ADVERTISEMENT
Article continues below this ad
At the end of five rounds, Adesanya defeated Yoel Romero via unanimous decision (48-47, 48-47, 49-46).
"People bought the pay-per-view to see a real fight – not this," Romero said after the fight. "You need to have respect for people. People paid for a pay-per-view, for what? For a fight."
ADVERTISEMENT
Article continues below this ad
Romero wasn't the only disappointed with the fight. Many fans who were expecting a thrilling main event, weren't happy with the fight.
I love Izzy, but in my honest opinion, Romero won that due to extreme inactivity on both parties but Romero doing slightly more. #UFC248

— Aljamain Sterling (@funkmasterMMA) March 8, 2020
A Few defended Israel Adesanya for his approach against Yoel Romero at UFC 248
The fight for Adesanya against Romero was supposed to be a tough one. An aggressive approach would hand Romero the advantage over Adesanya. This is one of the reasons why Adesanya took a cautious approach.
While many were disappointed with the fight on Saturday, a few backed Adesanya for his approach that helped him retain the title.
People are booing but I'm on the edge of my seat here. Fascinating

— michael (@bisping) March 8, 2020
Think it's safe to say I had the most exciting @ufc middleweight fight tonight. #UFC248

— Gerald Meerschaert (@The_Real_GM3) March 8, 2020
I didn't find the main event boring at all. Adesanya is a kick boxer and picked Romero's legs apart. He's not gonna roll around and exchange punches with that beast.Its called MMA where you strategically use different fighting styles to win #UFC248

— Vinny Guadagnino (@VINNYGUADAGNINO) March 8, 2020
48-47, 48-47, 49-46, Israel Adesanya is still the middleweight champion. I have no problem with that score. Weird fight. Moving on.

— Brett Okamoto (@bokamotoESPN) March 8, 2020
Also, I have nothing bad to say about Israel Adesanya. He took an extremely dangerous fight when he didn't have to. He did what he needed to do and he just defeated Yoel Romero. Yoel couldn't keep him down, and he couldn't knock him out. Izzy is a champion. 🇳🇬🇳🇬🇳🇬#UFC248

— Ryan Hobbs (@RyanHobbsMMA) March 8, 2020
ADVERTISEMENT
Article continues below this ad
Adesanya fought like a champion-exactly the way he had to… You have to decisively beat the champ.
Counter fighter versus counter Fighter is the toughest chess match imo!
Respect to both I love watching The highest level of mma #UFC248 ✊🏾

— Dominick Cruz (@DominickCruz) March 8, 2020
ADVERTISEMENT
Article continues below this ad