"We Would Love to Have Andy Dalton Back"- Dallas Cowboys VP Stephen Jones
Published 12/23/2020, 10:02 AM EST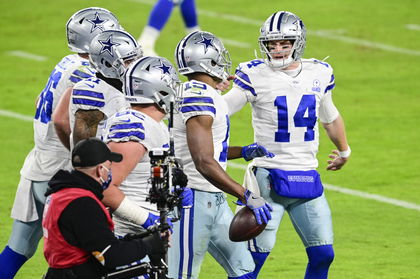 ---
---
Andy Dalton, the quarterback for Dallas Cowboys, has had a tremendous season so far. He is their star quarterback. He has 1549 yards with 11 touchdowns and 6 interceptions. Dalton has a QBR of 50.4.
ADVERTISEMENT
Article continues below this ad
Earlier, he was the option that the Cowboys relied on to replace Dak Prescott when he suffered an injury. No one knew whether he would be able to lead the team, but it seems like he has done a decent job.
This Sunday against the 49ers, Dalton completed 19 of 33 pass attempts for 209 yards and 2 touchdowns coming out victories with a score of 41-33.
ADVERTISEMENT
Article continues below this ad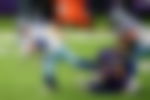 He only completed 57% of his passes that day because somewhere he struggled to connect with his priority targets. Despite all this mishappening, Dalton pulled the Cowboys as a team to become one of the top players in the NFC East Race.
With every match, Dalton gains more confidence. If you compare his game against the Eagles and the 49ers, there is an enormous difference. He had a lot of pressure on himself, but he handled it all so well. He continued to protect the ball.
Both Dak Prescott and Dalton are 2 different personalities. He might have taken his place, but he'll never be the playmaker that Prescott is, but his command of this offense has been very good. The Cowboys' team and the administration both have accepted that.
Stephen Jones talks about Andy Dalton and his future with the Cowboys.
Stephen Jones, the Vice President of the Cowboys, was asked about the future of Dalton with the boys. This was on 105.3 The Fan. Jones said that they would definitely love to have him back.
"He's doing a great job, and certainly, we'd love to have him back," said Stephen Jones.
ADVERTISEMENT
Article continues below this ad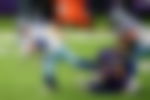 "I know we'll just have to address that at the end of the year in terms of what goals, what he's wanting to do, what his opportunities are, but he's a guy who's from this area, went to school over at TCU, and I know he makes his home right here in Dallas in Highland Park.
"So, I'm sure we'll have every opportunity to talk through what the business is going to be with Andy, but he's just a class act," said Jones.
ADVERTISEMENT
Article continues below this ad
Dalton is an amazing player, his skill sets are unlike any other. Last week he played against his former team, the Cincinnati Bengals, and he defeated them. He earned a lot of respect that day.