NFL Draft 2021: Will Zach Wilson be the next Patrick Mahomes?
Published 04/28/2021, 11:08 AM EDT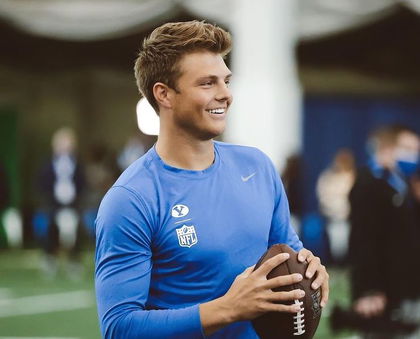 ---
---
The 2021 NFL Draft is now nearly upon us. Like every draft class, there's a set of players everyone will have their eyes on. And among them will be BYU Zach Wilson. 
ADVERTISEMENT
Article continues below this ad
The BYU Cougars QB has seen his draft stock rise exponentially through the course of 2020. Throwing close to 3,700 passing yards and 33 touchdowns, Wilson ranks pretty high on several mock drafts.
In fact, word on the street is that he's going to be the second overall pick. The New York Jets who recently traded QB Sam Darnold are going to be drafting a QB.
ADVERTISEMENT
Article continues below this ad
And according to insiders, Wilson seems to the main the Jets franchise wants to spearhead their dreams for a Super Bowl in the years to come. But what makes the quarterback so special?
Zach Wilson displays skill set similar to Patrick Mahomes 
Despite his performances over the 2020 college season, Wilson really stepped into the limelight thanks to his Pro Day performance.  
Held back in March, the quarterback put on quite a show for teams and their scouts. Compared to Patrick Mahomes for his style of play, the quarterback drew further comparisons after making this incredible throw.
Rolling to his left, Zach Wilson unloaded this 60-yard deep ball to perfection. The twist of the hips, and the gun-slinging action reminded one of the 2019 MVP.  
It's this ability of Wilson, to make the impossible passes look simple that makes people draw comparisons to Mahomes. The QB evidently has a strong arm and is seen in the clip before can throw even in awkward body positions.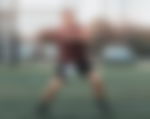 Another aspect of Mahomes' game that Wilson seems to have been blessed with as well is the element of surprise. Apart from their ability to make plays from the unlikeliest of angles, the QBs have a knack of pulling the odd-trick out of the hat.
Back in October 2020, the BYU Cougars were trailing a game when Zach Wilson and the Cougars decided to pull off an underhand shovel pass to score a touchdown. 
The play of course was one the Kansas City Chiefs had executed with Patrick Mahomes in the 2019 NFL season. With the Cougars pulling it off to perfection as well, even Mahomes couldn't help but laud the young QB.
ADVERTISEMENT
Article continues below this ad
Wilson has similar traits to Patrick Mahomes. His throwing style and temperament too are aspects that remind one of Mahomes. But with the comparisons, come expectations. 
Do you believe Zach Wilson has what it takes to become the next Patrick Mahomes?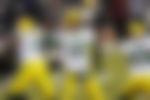 ADVERTISEMENT
Article continues below this ad