Chase Lawrence – Sculptor, Painter, and Brother to Future NFL Superstar Trevor Lawrence
Published 04/19/2021, 10:55 AM EDT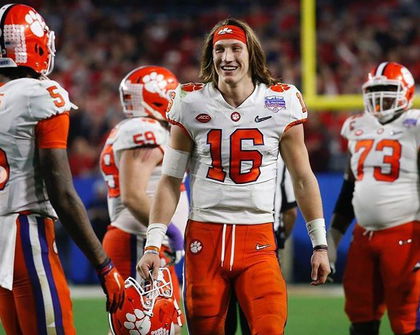 ---
---
Clemson's Trevor Lawrence is considered to be one of the best draft prospects of recent time. The quarterback standing at 6'6″ is considered the consensus #1 pick in the upcoming 2021 NFL Draft.
ADVERTISEMENT
Article continues below this ad
A Heisman Trophy finalist, Trevor Lawrence, and his family attended the award ceremony held on January 5th, 2021. And when the cameras panned to Trevor Lawrence, one's eyes would've automatically gone towards an individual in a floral shirt with a man bun.
ADVERTISEMENT
Article continues below this ad
That individual was none other than Chase Lawrence, Trevor's older brother. Unlike Trevor though, Chase is not on the path of professional football. 
Chase, a polar opposite to Trevor Lawrence   
Primarily raised in Cartersville, Georgia, Chase is almost 5 years older to Trevor Lawrence. The two have a 9-year-old sister named Olivia.
Chase, unlike Trevor, wasn't really into sports. His interests were different. While the Lawrence family was very much into sports, Chase couldn't be bothered. 
Trevor's older brother was instead more interested in drawing from an early age. He has even recently cited renowned artist Alex Pardee's work as the reason why he wanted to take up art as a profession.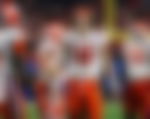 Like Trevor, Chase is also married. He met his wife Brooke while studying art at Kennesaw State University. The two now work together as one artist on multiple projects.
Trevor Lawrence recently tied the knot with long-time girlfriend Marissa earlier this month. The two met each other in high school and now Marissa plays soccer at Anderson University.
Recently the brothers announced that they're working on a project together. In March, Trevor Lawrence had signed a deal with collectible card-maker Topps to produce a 50-card box set, each of which features a unique design.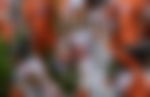 Of the 50, 20 cards are set to be designed by Chase and his wife Brooke. The couple has said that for the project they will draw inspiration from the 1960s and 1970s.
ADVERTISEMENT
Article continues below this ad
As draft day inches closer, the moment Trevor Lawrence has been waiting for all his life does as well. And with the player saying that he'll be watching the draft from Clemson with a few friends and family, one can expect Chase to be there rocking his man bun.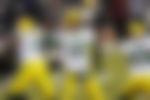 ADVERTISEMENT
Article continues below this ad