Is Mac Jones the Next Tom Brady?
Published 03/30/2021, 10:54 AM EDT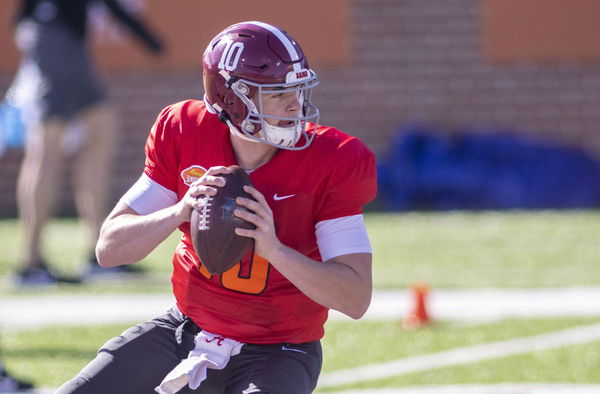 ---
---
There's been a lot of talk regarding the quarterbacks available in this season's draft class. And one among them is already being compared to modern-day legend Tom Brady. That quarterback is none other than Alabama's Mac Jones.
ADVERTISEMENT
Article continues below this ad
Jones enters the draft as one of the top prospects in his position. The QB might not be the flashiest, but he sure is a hustler. And more so, a proven winner.
But why these comparisons with the 7-time Super Bowl-winner Tom Brady? And are they even worth making?
ADVERTISEMENT
Article continues below this ad
Mac Jones, eerily similar to Tom Brady
The Mac Jones comparison to Tom Brady stems mainly from the QB's playing style. A pocket passer, Jones is probably the only QB of his type who'll secure himself a 1st-round pick.
Other talents such as Trevor Lawrence, Justin Fields, Zach Wilson and Trey Lance are all scramblers. They can venture out of the pocket if their first read is covered.
Jones, in this aspect, is not as gifted. But neither is Tom Brady. So does that make either of them any less of a quarterback? Absolutely not.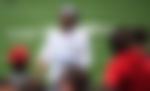 What both lack in terms of mobility, they make up for with accuracy. Jones sits deep in the pocket and looks for his primary reads to make the plays. And he does that with pinpoint accuracy.
In his final season with Alabama, the QB had a pass completion percentage of 77.4%. That's better than even consensus first overall pick Trevor Lawrence (69.2%).
Another key similarity between the two QBs is their pocket presence. Both set of QBs may not like to venture out of the pocket but often shuffle around with nifty footwork to make plays in the tightest of spaces. A tall, pocket passer with elite awareness, it's not surprising to see the comparisons.
Mentality is what separates the two
But to say that Jones will be the next Tom Brady might be a bit of a stretch. Sure, their playing styles are eerily similar in a world where pocket passers are a dying breed. However, is that enough to mention their names in the same breath? We think not.
ADVERTISEMENT
Article continues below this ad
So in terms of skillset, yes, Jones is probably the closest thing there is to Brady in this season's draft class. But the key aspect that makes Tom Brady the legend that he is, is his mentality and approach.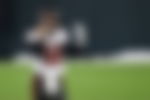 Brady's hunger for glory and perfection are something that even veteran NFL players admire. It's what sets him apart from the rest. Only time will tell if that same mentality is yet another thing that Jones and Brady share.
ADVERTISEMENT
Article continues below this ad