Jimmy Garoppolo First Niner to Text Trey Lance After Being Drafted According to GM John Lynch
Published 05/01/2021, 10:53 AM EDT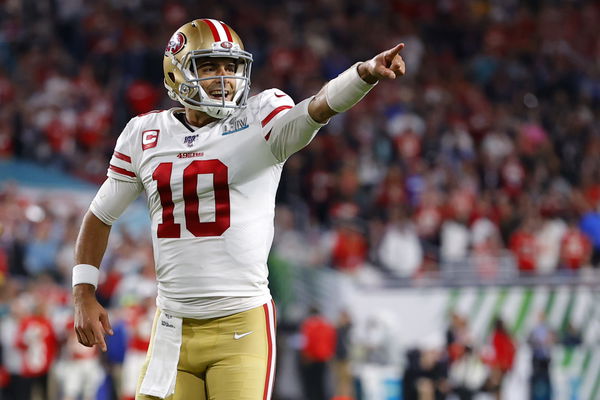 ---
---
The San Francisco 49ers kicked up a storm in the offseason when they traded up to land the #3 pick in the 2021 NFL Draft. What made the trade the talk of the town was what the 49ers wanted to do with the pick. They wanted to draft a QB for the future to replace Jimmy Garoppolo.
ADVERTISEMENT
Article continues below this ad
By now we all know that that man is none other than NDSU's Trey Lance. The QB had a phenomenal 2019 season and his intangibles and skill set were enough to win over the 49ers front office.
Jimmy Garoppolo on the other hand has been the San Francisco 49ers' quarterback for some time now. He was their quarterback when the side made the Super Bowl in 2020. 
ADVERTISEMENT
Article continues below this ad
While Garoppolo has proved that he has what he takes to carry a side to a Super Bowl, his inconsistencies and injuries compelled the franchise to look for an alternative for the near future. 
Many believed that the Niners would trade Jimmy G ahead of the draft to gain back some of the draft capital they had lost. Garoppolo's former team, the New England Patriots were among potential suitors. 
The franchise though decided not to trade their QB. Thus with Garoppolo and Lance now both in the same dressing room, many are interested to see how the relationship pans out between the two QBs. 
Thankfully, for the 49ers, it seems Jimmy Garoppolo isn't harboring any ill feelings.
A professional approach from Jimmy Garoppolo  
While talking to the media recently, San Francisco 49ers GM John Lynch said that Garoppolo was the first to text Lance upon being drafted.  
"One thing that was really heartwarming to me, I heard last night that Jimmy reached out (to Lance)," Lynch said.
"Trey was here today, and Trey told us that the first text he got was from Jimmy Garoppolo. So that's pretty special. I think it speaks to his class," he added.
San Francisco 49ers Head Coach Kyle Shanahan too lauded Garoppolo for his professionalism.
"Jimmy knew what the deal was… We have Zoom meetings every day. I got to see him on Zoom earlier that day and we had meetings and stuff. Jimmy has been great. Jimmy is taking it as a business approach," said Shanahan.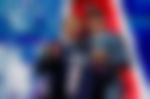 He further said that right Jimmy G looks focused on mounting a comeback after missing out on a good chunk of last season to injury.  
ADVERTISEMENT
Article continues below this ad
"I think he's excited for right now, just talking to him, and he's ready to come here and get back to being healthy and playing with our team. And if we have him compete, I know he's ready to compete."
For now, the 49ers are likely to name Jimmy Garoppolo as their starter for the opening game week of the 2021 season. Lance is a raw talent with a high ceiling.
ADVERTISEMENT
Article continues below this ad
Giving the rookie QB time to settle into the league as Garoppolo plays as starter will be beneficial for all parties. But it'll be interesting to see how things play out as the season progresses.