San Francisco 49ers Target Mac Jones Had a 'Great Meeting' With Chicago Bears
Published 04/03/2021, 12:00 PM EDT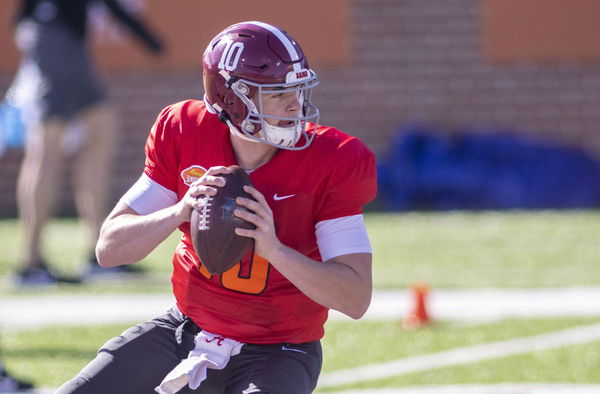 ---
---
The San Francisco 49ers and the Chicago Bears shared headlines over the past month over one similarity. The conversation regarding their starting quarterbacks for 2021.  
ADVERTISEMENT
Article continues below this ad
Both teams though find themselves in contrasting situations. The Bears, who have been without a franchise QB through the entirety of arguably their history went reportedly went all out for Seattle Seahawk's Russell Wilson.
Meanwhile, the 49ers are looking at a more long-term project. With Jimmy Garoppolo already on their roster, the franchise is looking for a more reliable option heading forward. 
ADVERTISEMENT
Article continues below this ad
With the Bears failed bid for Wilson, the franchise ultimately signed former Bengals QB Andy Dalton. The 49ers on the other hand have parted ways with massive draft capital to trade up to the #3 spot in the NFL Draft. 
And if rumors are anything to go by, the San Francisco 49ers are looking to draft Alabama's Mac Jones with that pick. Someone who the Bears seemed to have turned their attention to as well.
Could the San Francisco 49ers face competition for Mac Jones?
Mac Jones will be entering the 2021 NFL Draft as the QB who led Alabama Crimson Tide to the national championship last season. The QB, a traditional pocket passer, has drawn some flak for his lack of mobility when compared to his contemporaries.  
But that shouldn't shudder away too many franchises as the QB makes up for his scrambling with pinpoint accuracy. Jones had a pass completion rate of 77.4% in 2020. Fielding him well above the likes of competitors Trevor Lawrence, Justin Fields, and Zach Wilson in this regard.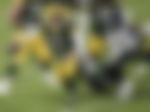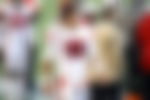 With his passing abilities, the QB would be the perfect fit for Kyle Shanahan's system. Something that many believe prompted the franchise to trade up for Jones to replace Jimmy Garoppolo. 
But according to a recent report, the Chicago Bears are in close contact with Mac Jones. NFL reporter, Dan Wiederer tweeted that the QB recently met with the Bears for a meeting which he termed as "great".
ADVERTISEMENT
Article continues below this ad
"We just talked football for an hour straight. That's the best type of meeting for me," Jones said. "Hopefully I'll get a chance to talk to them more and see where that relationship goes," he added.
There is one problem to this happening though. The Bears are much further down the pecking order to land Mac Jones. With the #20 pick in the draft, the San Francisco 49ers have the edge with the #3 pick.
ADVERTISEMENT
Article continues below this ad
If the San Francisco 49ers decide to not draft Jones, the Bears could still be with a chance. If they do manage to get their hands on Mac Jones, do you believe he can fix the franchise's QB problem?