'Tape Is Always the Best Guiding Light' – LA Rams Head Coach Sean McVay on How He Approaches the Draft
Published 04/28/2021, 1:36 PM EDT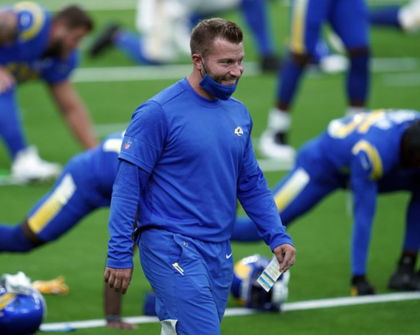 ---
---
The LA Rams are entering the 2021 NFL Draft as one of the four teams to not have a first-round pick in 2021. And it's actually something that the Rams seem to have gotten used to and might as well get comfortable with. 
ADVERTISEMENT
Article continues below this ad
The LA Rams have traded first-round picks in the past to land star players like Jalen Ramsey. Acquiring Ramsey from the Jacksonville Jaguars saw them trade their 2020 and 2021 first-round picks.
They did the same to attain QB Matthew Stafford from Detroit. Trading Stafford saw them giving up their first-round pick for 2022 and 2023.
ADVERTISEMENT
Article continues below this ad
As things stand, the LA Rams have five picks in the upcoming draft. One for each round from the second onward. And Rams Head Coach Sean McVay is ready to make sure the team make the most out of those picks.  
LA Rams studying opt-out players closely
During a recent press conference, McVay said that franchises shouldn't look to punish young players who opted out of the 2020 college football season due to the coronavirus pandemic. 
"You don't punish a guy. This past year has certainly been, I think, one that is different in so many ways, but you don't punish guys for that. You go back to the tape," said McVay.
READ MORE – NFL Draft 2021: Will Zach Wilson be the next Patrick Mahomes?
"You look at what they've previously done — and then there are some projections with guys that maybe have less tangible evidence on the tape and it all is a part of the evaluation process," he added.
McVay is known to be a man who spends hours in film room studying tape. And he said that for him it remains the best piece of guidance while drafting players.
ADVERTISEMENT
Article continues below this ad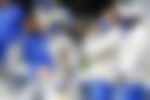 "The tape is always the best guiding light. So you go back to their '19 film and you use that as the most important reference. Then the character is all a big part of it… The most important thing that guides our decision-making is, first and foremost, the tape," McVay said.
With the LA Rams rearing to get started with new quarterback Jared Goff under center, do you think the Rams can make another run for the Super Bowl anytime soon?
ADVERTISEMENT
Article continues below this ad
READ MORE – Who Were the Biggest First Round Busts In NFL Draft History?