NFL Legend Chad Johnson Scores a Splendid Goal Lining Up With Ronaldinho, Paul Pogba, Paulo Dybala, and Vinicius Junior in a Soccer Game
Published 06/21/2022, 8:30 AM EDT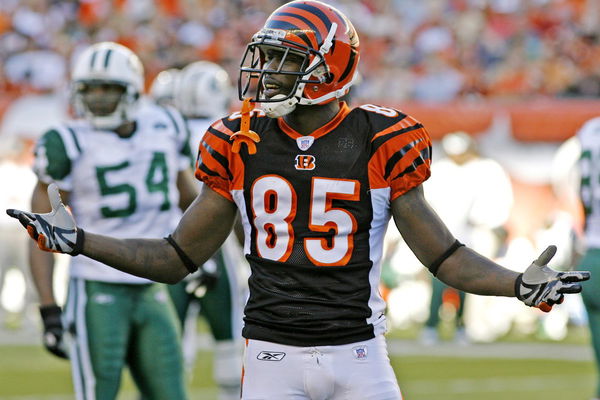 Chad Johnson played 11 seasons in the NFL. He was a crucial part of the Cincinnati Bengals from 2001-to 2010. Johnson was a pretty good receiver for them and cemented as an all-time great for the franchise.
He recently took part in a charity soccer game. In the event, Chad Johnson lined up against the current stars, including Paul Pogba, Paulo Dybala, Weston McKennie, Alphonso Davies, and Radamel Falcao. All of them are star football/soccer players.
ADVERTISEMENT
Article continues below this ad
The former Cincinnati Bengals WR scored a great goal amongst the other star players. He shared the video of hitting a goal on Twitter and wrote, "name a better finisher than me?"
He wanted to show his fans that he was good, not only on the gridiron, but also on the football/soccer field.
Legends of football also took part in the game. The likes of Ronaldinho, Roberto Carlos, Cafu, Rivaldo, Carlos Valderrama, Rene Higuita, Rafa Marquez and Patrick Kluivert were present. They played the match in Miami, a suitable destination for such a charity match.
Chad Johnson had a good time during the event
Chad Johnson seems to have enjoyed his time during the event. Not only did he score a great goal, but Johnson also got an opportunity to share the stage with many talented people simultaneously.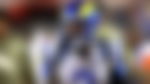 He also shared a picture of him alongside Paul Pogba, Paulo Dybala, and Jimmy Butler. Dybala and Pogba are global superstars, and the Bengal's WR seems to have a great relationship with them.
ADVERTISEMENT
Article continues below this ad
Jimmy Butler was the hometown hero at this event. He plays for the Miami Heat and is currently the franchise's face. Butler had a great season in the playoffs, but injuries acted like a barricade for him and his team. As a result, they weren't able to make the NBA Finals.
ADVERTISEMENT
Article continues below this ad
Chad Johnson, on the other hand, is now living in Philadelphia. He recently named himself an honorary Eagle. He is a longtime Philadelphia Eagles fan and will root for them forever. This time, Johnson also predicted that the Eagles would win their division over the Dallas Cowboys. Now only time will tell.
Watch This Story: What Does Aaron Rodgers Rumored New Girlfriend Blu of Earth Do For a Living?