Odell Beckham Jr. Triggers Rumors of Pulling a Kevin Durant in Latest Post, Leaves NFL World Guessing
Published 03/10/2023, 12:48 PM EST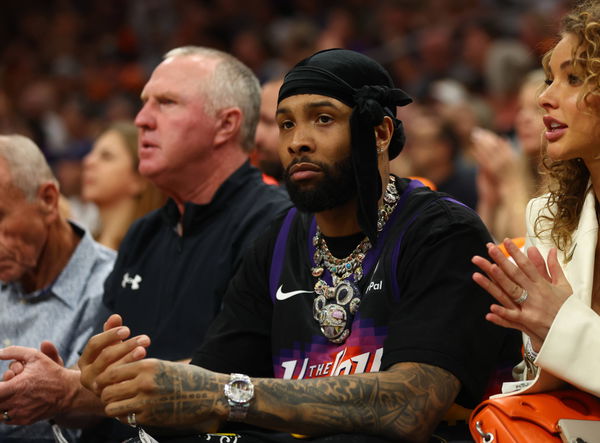 All the quarterback madness in this off-season has completely shifted the focus from some of the other big names without a franchise ahead of the free agency. Ranking high on that list is wideout Odell Beckham Jr. He was recently seen in an NBA match rooting for his favorite team. And he may have given out mixed signals about a potential new home.
The world champion is without a team since his ACL injury in the Super Bowl LVI victory against the Cincinnati Bengals. And over the past year, he has been linked to multiple teams like the Cowboys, Bills, and Giants. And this time, from all the clues gathered, fans guessed between two completely different teams.
Odell Beckham Jr. sending mixed signals through attire
ADVERTISEMENT
Article continues below this ad
Former Giants, Cleveland Browns, and Los Angeles Rams wide receiver Odell Beckham Jr. attended the Oklahoma Thunders and Phoenix Suns NBA game with his son, Zydn Beckham. And his choice of outfit indicated that OBJ may be close to finalizing a new team. However, Zydn's outfit implied that there's still doubt in daddy's mind.
Odell donned a Tampa Bay Buccaneers cap. "TAMPA BAY HAT," one fan screamed in the comments. "TB fitted crazy," another commented. "He hinting he is a Tampa Boy," another one wrote from Florida.
 

View this post on Instagram

 
"Daddy, why they took uncle [Devin Booker] out? He was 6 away from a 50 ball," OBJ captioned the photo on Instagram, referring to Devin Booker's 44 points in the 132-101 win over the Thunders. Some fans thought it was too many words for little Zydn. "Now he did not say this Odell," one fan bluntly commented. However, it seemed to have reached its audience, as Booker replied. "I tried to stay in there for my boy," the Suns' shooting guard wrote.
It was Zydn who threw off the NFL world
However, more than OBJ's Tampa Bay hat, it was little Zydn's Phoenix Suns jacket that made some fans think of an Arizona Cardinals move. "OBJ to the Cardinals confirmed," one wrote. "Bro, are you joining the Cardinals because you've been in AZ for a minute," another enquired.
Last season, a return to the Big Blue was also on the table for Odell. However, both the Dallas Cowboys and NY Giants deals fell through because there was concern about the wideout not being fully fit. But it looks like he has reached his full capacity, based on his recent social media posts.
ADVERTISEMENT
Article continues below this ad
One of them came from his recent training camp at Arizona State, once again fuelling the NFC West rumors.
ADVERTISEMENT
Article continues below this ad
WATCH THIS STORY: Tom Brady hangs up his helmet to focus on feline fatherhood
With Kevin Durant coming to the Suns in the NBA free agency this month, Phoenix will become the next big thing in the sporting world if OBJ also arrives. However, Odell has been to multiple Phoenix Suns games in the past, and the wideout is also Booker's Call Of Duty partner on Twitch. And maybe fans should stop reading between the lines until something more concrete emerges.