Nick Sirianni Becomes Laughing Stock on Twitter After Comparing Jalen Hurts to Michael Jordan
Published 01/24/2023, 3:30 PM EST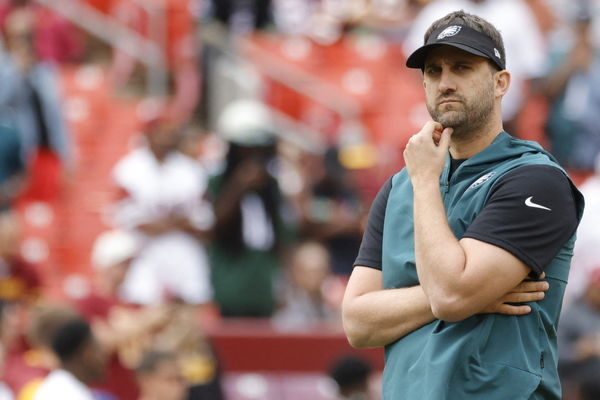 The third-year quarterback for the Eagles, Jalen Hurts, had a phenomenal season this year. He has successfully entered the NFC Championship game showcasing an exemplary performance in the regular season. His craze and popularity in the NFL world increased in a surreal manner. So much so that fans and head coaches have started drawing comparisons with Michael Jordan.
Winning a game in the NFL happens to be a difficult job, and a playoff victory tastes much better for a youngster like Hurts, who is yet to experience hard times in the league. After dismantling the Giants in the divisional round, head coach Nick Sirianni praised the quarterback, taking references to Jordan. As one could expect, it didn't go well, and netizens started trolling him online.
ADVERTISEMENT
Article continues below this ad
A 38-7 win against the Giants in the second week of the playoffs turned out to be a record-breaking moment for the Eagles. Because securing a win with such a big margin in the postseason happens to be a tough task to accomplish. Sirianni's happiness saw no bounds, and he became over-excited using superlatives to address his quarterback.
"To have him out there is likeー I know this is high praise, but to have him out there is like havingー I shouldn't even go thereー it's like having Michael Jordan out there," Sirianni told reporters after the game, per NBC Sports. "He's your leader. He's your guy," he added.
Well, this comment would certainly trigger a huge section of fans. Hurts is just playing in this third NFL season. And drawing comparisons with the NBA's all-time great happen to be a far-fetched claim.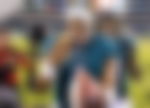 Jordan is a six-time champion and possesses various other accolades to his name. An entire book can be written to describe his success and narrate his entire life story. Getting a playoff win and making the Super Bowl appearance doesn't validate such claims.
Fans mock Nick Sirianni for making unnecessary comparisons
No doubt, Jalen Hurts happens to be an emerging talent. In the coming years, he might even seek greatness carving his name in the record books. However, drawing a conclusion based on the early-stage performance invites trolls like these.
Imagine dragging MJ's name into a conversation about a person, who atp has achieve nothing.

MJ is about winning, domination and repeat of that.

The amount of disrespect towards MJ in this quote is beyond measurable.

Stop gassing up non-achievers, man. It's sickening.

— Zeke (@Ezekiel1023) January 24, 2023
ADVERTISEMENT
Article continues below this ad
Haven't gotten to a sb yet but making this comparison is outrageous

— Real Sturdy 🧠👁✊🏽 (@KingSmoove009) January 24, 2023
ADVERTISEMENT
Article continues below this ad
The Eagles will next face the 49ers to secure the conference title. If Hurts manages to get past this point, he will be close to winning the maiden Super Bowl title of his career. It will be interesting to see how he manages to achieve this feat.
Watch This Story: Go back to New England: This NFL Analyst Wants NFL GOAT Tom Brady To Return To Former Team New England Patriots