3x NBA Champion LeBron James appeared on UNINTERRUPTED and spilled the beans on a variety of topics. These included a stunning revelation that he too almost became a two-sport player akin to Michael Jordan. However, unlike the NBA legend who opted for baseball, the Los Angeles Lakers star said he considered a switch to the NFL, as he grew frustrated with the NBA lockout in 2011.
The 35-year-old shockingly added that Jerry Jones sent him a professional contract to join Dallas Cowboys. Show host Maverick Carter backed this claim and said, "I know he got a contract from Jerry Jones that he framed and put it in his office." 
What would LeBron James be drafted as in the NFL?
The revelation dominated the conversation on ESPN's Get Up. Louis Riddick was presented with a question of what he would draft LeBron to play as in the NFL. Unsurprisingly, the former safety backed the NBA forward in an offensive role, similar to what he has thrived in on the basketball court.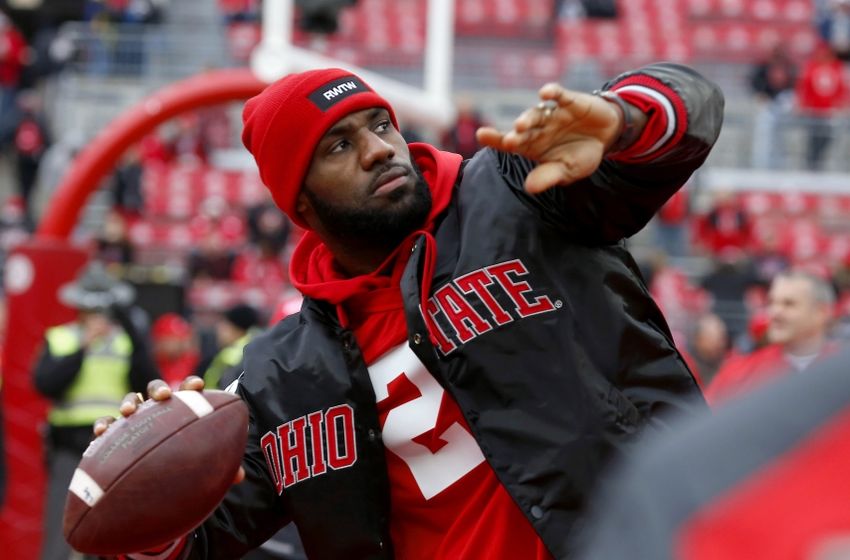 He said, "Offensive weapon. That's what he's playing ok. So you call him a tight end. You call him a big wide receiver but you need to have this guy with the ball in his hands. And you need him down the field. What's LeBron 6′ 7″, 6′ 8″ 250 pounds, 240 pounds. It was rumored that Michael Jordan ran in the 4.3s in the 40."
"I'd love to see what LeBron actually ran in a 40-yard dash. You see him kind of body control and what kind of hand-eye coordination he has. Can you imagine him in the middle of the field as a tight end in a flex position, going in against today's linebackers and safeties? It would be unfair. Tom Brady, in particular, would sit there and go 'sign him up' on my team. LeBron would be unstoppable in that regard. He really would. I'd just put him on offense and move him all over the place and you can best believe 50-50 balls will be thrown up on a regular basis."
These are just fantastic assumptions, but NBA fans in general, and those of the Cleveland Cavaliers in particular, would be glad he did not quit basketball. This is because he got the team their first NBA trophy. En route, the team pulled off the only comeback from a 3-1 deficit in NBA Finals history. 
Do you think LeBron James would have been successful in the NFL?