"Football Was My Escape": Despite a Heartbreaking Personal Loss, Clemson Star Continues to Hold On to His NFL Dreams
Published 03/15/2023, 1:13 PM EDT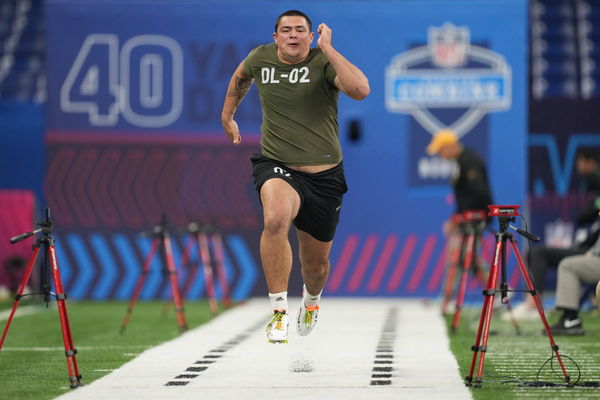 Adversity and pain do not deter the brave from achieving what they want. And a football star from Clemson University has proved that. Despite a heartbreaking personal loss, he has held on to his NFL dream. And his journey to the league continues despite many personal battles that he is fighting.
Clemson Tigers defensive tackle Bryan Bresee put on a strong face as he went through Clemson's pro day like a real pro. He gave the NFL scouts something to think about as the 2023 draft approaches.
The Bryan Bresee resolve
ADVERTISEMENT
Article continues below this ad
Defensive tackle Bryan Bresee lost his sister to kidney disease in September last year. No doubt it would have been devastating for him and his family. But that didn't deter him from his path to the NFL. In fact, it became his coping mechanism.
"Football was my escape for a lot of things. Having my teammates, my family, my coaches, a lot of support around me was definitely crucial during that time," Bresee said, as reported by Associated Press.
Bryan Bresee talks about living his life in memory of his sister, who passed away last year from brain cancer and his intentions to help those going through similar struggles. pic.twitter.com/2D7gNMrulC

— CHGO Bears (@CHGO_Bears) March 1, 2023
Apart from losing his 15-year-old sister Ella, he also developed a kidney infection that threatened to derail his career completely. And he missed four games with the Tigers due to his problems off the field. But he returned and put everything in order. And now, the NFL teams are witnessing the talent that the 6'5″ tackle brings to the table.
Bresee met with multiple NFL teams during the pro day. But he did not want to speak with the media. He is totally focused on what lies ahead.
The pro day show
Bryan Bresee put on a great show at Clemson's pro day in the presence of officials of all 32 NFL teams on Tuesday. He did all kinds of workouts in front of the Pittsburgh Steelers head coach Mike Tomlin, New York Giants defensive coordinator Wink Martindale and many others.
ADVERTISEMENT
Article continues below this ad
The DT bench pressed 225 pounds of weight amid cheers from teammates and the Tigers coaching staff. Bresee also ran the 40-yard dash in 4.86 seconds.
The tackle came into the Tigers football program three years ago when he was the number one college recruit. And in his first season there, he won the Atlantic Coast Conference's defensive rookie of the year award.
"He's just an inspiration to me, an inspiration to all his teammates. We love seeing him do great," his teammate and defensive end KJ Henry said.
ADVERTISEMENT
Article continues below this ad
The NFL draft is a few weeks away and Bresee is doing all he can to make a mark. Will he succeed in fulfilling his dream?
WATCH THIS STORY: Beautiful product takes Instagram by storm with help from Tom Brady's rumored GF