WATCH: Chaos Breaks Out During College Football Game Between Ole Miss And Tennessee Volunteers
Published 10/17/2021, 10:49 AM EDT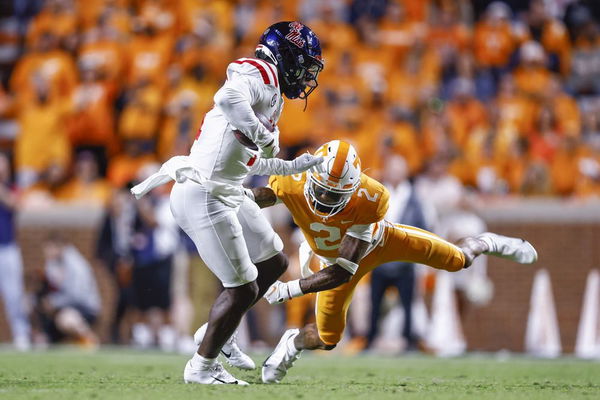 College football is as interesting to watch as Division 1 NFL. However, sometimes the situation can get out of hand as young individuals lose their calm and commit to disorderly conduct amidst the game. The same happened during the matchup between the Tennessee Volunteers and Ole Miss Rebels on Saturday.
However, the outrage was not regarding the trash talk among the players. It was regarding Ole Miss head coach Lane Kiffin. Kiffin adorns his resume as the former head coach of Tennessee Volunteers for 12 seasons.
ADVERTISEMENT
Article continues below this ad
Ole Miss snatched the victory from Tennessee Volunteers
This was Kiffin's homecoming game where, after sealing a victory against his former team, he was pelted with golf balls, plastic bottles and other kinds of trash, littering the field. Tennessee fans threw all sorts of trash to the Ole Miss bench after a late fourth-down call went against them, leading to a 31-26 win for the opponents.
Tennessee was on the move to make a game-winning drive in the last moments of the game when the referees made a bad call returning the ball to the Ole Miss side with just 54 seconds to go. The home fans got even more infuriated after the Rebels went down with a myriad of injuries and cramps which the Volunteers thought they were faking.
Tennessee used all their three timeouts when Ole Miss was in control of the ball, forcing them to punt. QB Hendon Hooker got injured after two shots in the end zone. Joe Milton came in to replace Hooker, ending the game with a doomed scramble.
ADVERTISEMENT
Article continues below this ad
A not so welcoming homecoming for Lane Kiffin
The Tennessee fans were convinced that the officials had made a bad call after which they started to hurl trash over Ole Miss. The scene grew a bit hostile for the visitors in the Neyland Stadium, and the band and cheerleaders were seen taking cover after a while.
ADVERTISEMENT
Article continues below this ad
"I don't know if I'm more excited that we found a way to win or that I didn't get hit with the golf balls they were throwing at me," Kiffin said after the game.