"Why Would You…": JJ Watt Dishes Honest Thoughts on Star Draft Prospect Bryce Young's 'Small Size'
Published 03/18/2023, 11:16 AM EDT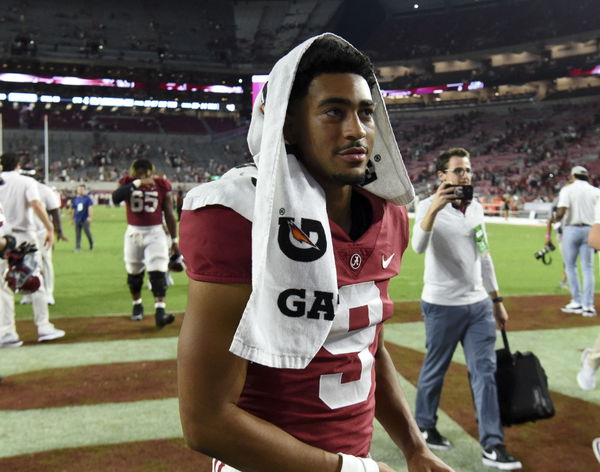 The NFL draft 2023 is around the corner and the teams are finalizing their strategy for it. Among many prospects, the one making some noise is Alabama alumnus Bryce Young. But some doubts regarding him persist even after a stellar college football career. Many athletes and fans have made their statement regarding the top pick. Now, NFL legend JJ Watt dishes out honest thoughts regarding the future of Young just before the draft.
Although the NFL teams regard Young as a great QB prospect, they have some doubts regarding his height. But according to the legendary defensive end, there shouldn't be any doubts for one simple reason.
JJ Watt has this to say about Bryce Young doubters
ADVERTISEMENT
Article continues below this ad
JJ Watt doesn't think anyone should have any doubts regarding the Crimson Tide QB Bryce Young when it comes to height. And he gave a simple reason for his opinion on the matter.
"I don't think it should because who do you think he was going against at Alabama? Was he going against 5-foot-5 defensive linemen?" Watt asked during his appearance on the 'Pat McAfee Show'.
He then went on to say that if any team thinks he has all the qualities to be a good quarterback, height should not be a problem. Watt also listed some of the qualities of a QB.
"If you think the guy is a good quarterback, if you think he can make the right reads, if you think he can make throws, then why would you have questions over him," Watt added in his Bryce Young defense.
Young isn't concerned when it comes to height. He is a 5-foot-11 QB who has proved himself in college football. But will his draft stock fall just because of height?
Making a mark
Bryce Young has made his mark in college football as a part of the University of Alabama football program. Since 2020, when he was a backup for the Crimson Tide, he won a lot of accolades for his performance on the pitch.
ADVERTISEMENT
Article continues below this ad
Young and the Crimson Tide won the 2020 CFP National Championship. He became the starter in his sophomore year and won the Heisman trophy along with the SEC Offensive Player of the Year. In 2022, he led Alabama to a victory in the Sugar Bowl.
ADVERTISEMENT
Article continues below this ad
The Carolina Panthers have the first draft pick in the 2023 NFL draft. And they surely need a quarterback after going through three players in the position. But will they pick up Young? Or will it be someone else in this year's draft class?
WATCH THIS STORY: Breaking down the most likely landing spots for Aaron Rodgers if he leaves Green Bay