Cincinnati Bengals to Decline the Fifth-Year Option on John Ross
Published 05/03/2020, 2:14 AM EDT
By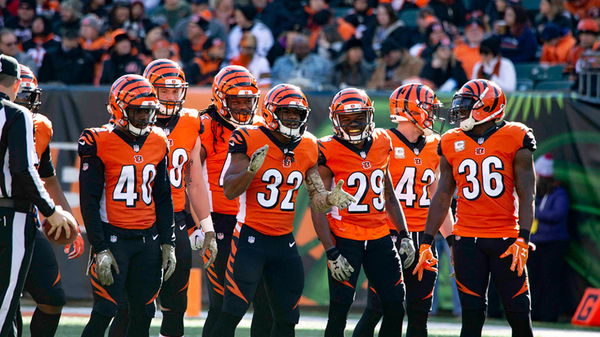 The Cincinnati Bengals have opted out of the fifth-year option on their 2017 first-round pick (ninth overall), John Ross. This would be Bengals second major alteration on their roster. The team also released their quarterback, Andy Dalton, after choosing the 23-year-old Joe Burrow as their first-overall pick.
ADVERTISEMENT
Article continues below this ad
With this decline, Ross' current contract will expire after the upcoming league year. He will now enter the unrestricted free agency after concluding his tenure with Bengals.
Analysts agree that Cincinnati Bengals made the correct decision
ADVERTISEMENT
Article continues below this ad
Football Analysts were banking on this decision, as John Ross had a progressive decline in his health conditions. Going into the 2017 draft, Ross was considered as one of the first-round picks by draft experts and NFL pundits. Cincinnati Bengals showed an interest in him after a consistent form throughout his college career. The team bought him on a contract worth $17.1 million, with a signing bonus of $10 million.
However, Ross' rookie season was not commendable. An injury forced him to miss some crucial matches. It wasn't until 2018 when Ross secured his first touchdown for Bengals, his first in the professional career. He ended the season with 7 receiving touchdowns and 21 receptions for a total of 210 receiving yards.
Ross made a sort of comeback in 2019. He ended up being on the top 10 in yards for receivers, till an injury forced him to stay out of the field for 8 weeks. Out of his total record of 716 receiving yards, 506 came from this season, giving a glimmer of hope on his future stay with Bengals.
ADVERTISEMENT
Article continues below this ad
What's next for John Ross?
Even as the wide-receiver has shown some progress in his form, his inconsistency and injuries are a constant issue. Though the former Bengals quarterback, Andy Dalton secured a position at Dallas Cowboys for a one-year contract deal worth $7 Million in just 3 days after his release, Ross' career is currently in the balance.
ADVERTISEMENT
Article continues below this ad
On the other hand, it would have cost the Bengals as much as $16 million dollars if they were to accept the fifth-year option. This huge lump sum is because of the transition tag for a top-10 pick. Now that the Bengals have declined the option, Ross would be earning $2.8 million in base salary for the 2020 season.
If the wide receiver steps up his game and makes a good record by the end of the next season, then he can secure a contract elsewhere, just like Andy Dalton. As far as the Bengals' 2020 run is concerned, it looks bright, especially with Joe Burrow and 8 additional free agency signings.