Miami Dolphins Release Their Defensive End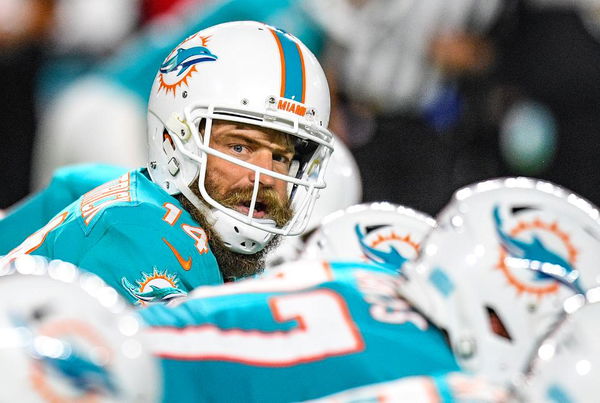 Miami Dolphins released their 25-year-old defensive end, Taco Charlton, this week, following his progressive decline in performance. Though he was the first-round pick of Dallas Cowboys in the 2017 NFL draft, Charlton couldn't keep up with the competition, as he only managed a mere 4 sacks in 27 games. Social media was whipped up into a frenzy after Charlton posted a controversial tweet asking the Cowboys to either trade or release him.
He tweeted: "Free Me"
Luckily for him, Miami Dolphins claimed him off waivers from the Dallas Cowboys last year. Relieved, Charlton pursued the season with Dolphins, and he showed a remarkable improvement. In 10 games, Taco Charlton could manage 5 sacks, becoming the sack leader of the team.
ADVERTISEMENT
Article continues below this ad
Charlton's stint with the Miami Dolphins
However, despite his improvement, Dolphins didn't pay much attention to him, as they had Christian Wilkins from the 2019 draft. He started 14 games out of 16 and recorded a subtotal of 56 tackles and 2 sacks. Besides, the Dolphins had one of the wealthiest cornerbacks in the league. They had an arsenal of Kyle Van Noy, Shaq Lawson and Byron Jones. This year too, they strengthened their defense and ended up drafting 3 defensive linemen.
Dolphins were to make the decision to move forward with Charlton or not this year. They had the chance of picking up a fifth-year option on Charlton's rookie contract. With this much emphasis on defense, waiving Taco Charlton doesn't come as a surprise.
The Dolphins have waived DE Taco Charlton, a Cowboys first round pick in 2017. He had 5.0 sacks this past season.

— Field Yates (@FieldYates) April 30, 2020
ADVERTISEMENT
Article continues below this ad
ADVERTISEMENT
Article continues below this ad
After signing on with the Miami Dolphins, Taco Charlton showed signs of improvement. His first game was against his former team, Dallas Cowboys. He performed fairly well in that game with 2 tackles and 1 sack. On his next match with Los Angeles Chargers, he secured one sack and 6 tackles.
After securing 4 sacks in his first five games, his last 5 games went downhill with only 1 sack. Out of 10 games, he started 5 times and was declared inactive for 4 contests. Dolphins had legitimate fears over Charlton's form, and hence, decided to release him. However, with a strong defense team, fans believe that Taco Charlton's exclusion wouldn't impact the team much.