Watch: Jamaal Charles Scintillating run with Kansas City Chiefs
Published 04/30/2020, 11:09 AM EDT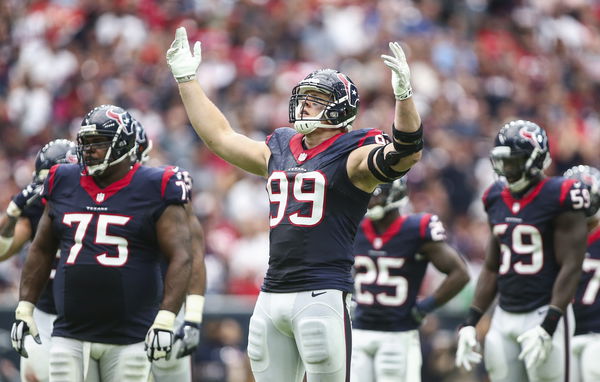 ---
---
The Kansas City Chiefs chose Jamaal Charles for their third-round pick in the 2008 NFL Draft. Unbeknownst to them, they had picked one of the most dominant Running Backs in NFL History. Ironically, his first match was not memorable, as the Running Back rushed for only 28 yards as the Chiefs lost to the Patriots 17-10.
ADVERTISEMENT
Article continues below this ad
However, since then, his career rose upwards, and ultimately the 33-year-old Running Back retired with an average of 5.4 yards per carry in 11 seasons. He remains one of the best Running Backs NFL's modern era. Besides, he holds the record of 165 rushing yards in one quarter.
Jamaal Charles signs on with the Kansas City Chiefs
ADVERTISEMENT
Article continues below this ad
Jamaal Charles played college football prior to his stint with Kansas City Chiefs. He was one of the finest Running Backs of the University of Texas, which prompted a call from the team. Though he had to leave college early, Charles expressed no regrets.
Unfortunately for Charles, he had a limited role with the Chiefs as Larry Johnson's backup. His first season was not commendable, as he secured only one touchdown and 67 carries.
It wasn't until 2009 when Larry Johnson was released, that Jamaal was promoted to first-string, wherein he had to do splits with Kolby Smith. In the same season, Charles got his first rushing touchdown, which incidentally was Chiefs' first one that year as well. 2009 was a decisive year in Charles' career and it ended with him being the only player in NFL History to rush over 1100 yards in less than 200 carries!
In the 2010 season, Charles ranked 33rd in NFL Network's Top 100 Players, and was one of the youngest players in the list. He dealt with a serious injury the following season, but as soon as he made his return, he broke NFL Legend Jim Brown's 47-year-old record of average yards per carry. Charles averaged at 5.82 while the veteran had mustered up 5.22.
In the 2013 season, the NFL Network ranked him 20th among the top 100 players. In 2014, Charles became one of the expensive running backs in NFL History after inking a 2-year extension worth $18 Million with Chiefs. He ensured he was worth every penny as he steamrolled through the season. He broke another record, this time of Priest Holmes' all-time leading rusher.
A promising career, cut short. 
ADVERTISEMENT
Article continues below this ad
Unfortunately, Charles had to miss the majority of the 2015 season as the 200-pounder was left out on the bench following his torn ACL injury. He had to undergo several surgeries to restore his form. However, shortly after his second surgery and being placed on injury reserve, Chiefs released him in 2017 after the Denver Broncos signed him on a deal worth $3.75 Million. He ended his 2017 season with 14 games and 1 rushing touchdown. As per Charles' standards, this was undoubtedly a poor season for him.
Where is he now?
ADVERTISEMENT
Article continues below this ad
After the Broncos, Charles signed on with the Jacksonville Jaguars, but they released him after 2 games. This put Jamaal's career on hold. The veteran finally retired from football the following year after signing a one-day ceremonial contract with his first team, Kansas City Chiefs.
Needless to say, it was the Chiefs who gave Charles the platform to flaunt his prowess. Unfortunately, due to his declining health, they had to release him, a move which cast doubts over his future in football. Jamaal's career, though short-lived, is one of the best considering his age. Though there's no certainty over his return, Charles is active on all social media platforms. He also hosts shows and features covering the NBA and other sports.