Watch: When Don Shula Went Off on a Referee After a Wrong Decision
Published 05/05/2020, 2:19 AM EDT
By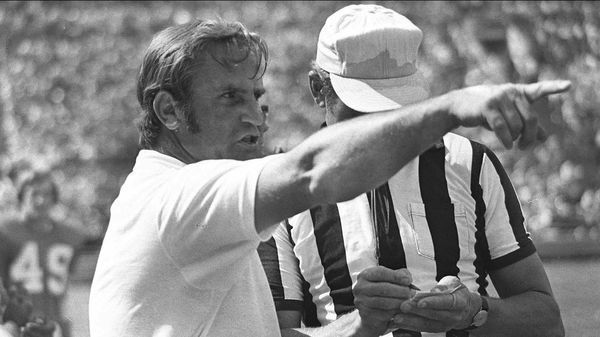 Don Shula passed away peacefully at the age of 90. The player-turned-coach led Miami Dolphins to two Super Bowl victories. Besides that, under his guidance, Miami finished the 1972 season without a single loss, a feat accomplished by no other team. However, apart from his proficiency in coaching, the winningest head coach is known for his rightful contests.
Throwback to the 1981 season, when the Eagles played the Dolphins. There was an altercation between Don and Ref Red Cashion after a delay in punting the ball by the Dolphins punter. When the Referee flagged Eagles for holding, Don was unhappy and contested it. He went off on Red Cashion and rightfully pointed out that the holding occurred before the ball was even kicked. While the Ref decided not to pay attention to his remarks, an angry Don walked out while making a choking gesture, for which he was later fined.
ADVERTISEMENT
Article continues below this ad
However, this was not the first time, or the last, that Don had started a heated debate with a referee. In one match, when Don saw the referee making a wrong decision, he contested again. The reluctant referee kept mentioning the absence of such a rule in the league. The debate ended with the referee realizing that it was Don who wrote that rule! Don was an active member of the rules committee. Needless to say, there was a time when referees were afraid of him.
Don Shula As Head Coach
Don Shula wouldn't be the legend he is today without his run with the Miami Dolphins. Though he started his career as a head coach with Baltimore Colts, his tenure with the Dolphins put him on the map.
ADVERTISEMENT
Article continues below this ad
Don entered the Miami Dolphins in the year 1970 and violated the NFL Rules, forcing the team to give away their first-round pick. But his controversial start didn't cause any harm in Miami's performance. He coached the Dolphins for 25 years. Under his guidance, the Dolphins won 2 Super Bowls and one perfect season! Moreover, the 2 Super Bowl wins came back-to-back in 1972 and 1973.
Combining his 7 years with Colts and 25 years with the Dolphins, Don has coached more games than anyone. He has a record of 347 wins. For his triumphant run, the city of Florida has honored him in many ways. There is a towering statue of Don outside of Hard Rock Stadium. The city has an expressway named after him. The year after he retired, he secured a spot on Miami Dolphins Honor Roll. His demise is a tremendous loss to the NFL.
When the Dolphins came to know of his demise, they released a statement on Twitter
ADVERTISEMENT
Article continues below this ad
The Miami Dolphins are saddened to announce that Head Coach Don Shula passed away peacefully at his home this morning. pic.twitter.com/MKAtXFA4zd

— Miami Dolphins (@MiamiDolphins) May 4, 2020