2021 NFL Draft: Analyst Wants Atlanta Falcons to Pick THIS Florida Star
Published 04/27/2021, 5:10 PM EDT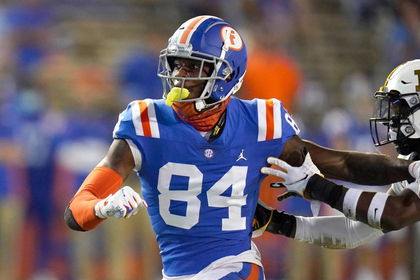 ---
---
The 2021 NFL Draft is set to be held between April 29 and May 1 in Ohio, Cleveland. This year's event will see a host of young college football prospects line up for selection. Some critics have said that the Class of 2021 is arguably the most talented bunch of kids to attend the NFL Draft.
ADVERTISEMENT
Article continues below this ad
This quarterback-rich class includes big names such as Trevor Lawrence, Zach Wilson, Justin Fields, Mac Jones, DeVonta Smith, Ja'Marr Chase, and Patrick Surtain II. But another player attracting major attention in recent weeks is University of Florida TE Kyle Pitts.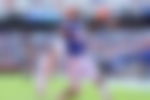 ADVERTISEMENT
Article continues below this ad
Pitts had an impressive season while playing for the Florida Gators in 2020. He concluded his 3-year stay with the Gators by rushing for 1,492 yards with 18 receiving TDs. He is being tipped as the first non-QB to be drafted in the 2021 NFL Draft.
But will he be joining the Atlanta Falcons? Here's what a certain former NFL player has to say on the same.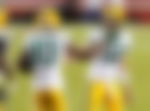 Kyle Pitts on his way to sign for the Atlanta Falcons?
Former Baltimore Ravens and Indianapolis Colts star Jeff Saturday appeared on the latest instalment of ESPN's Get Up. He spoke about the Atlanta Falcons and what they must to with their 4th overall pick in the 2021 NFL Draft.
"When you think about Kyle Pitts, the reason he fits so well at #4 is because of Julio right? You got Ridley and Julio on the side so now you're gonna open up. You'll get man-to-man coverage, you can kind of dictate the defenses what you want to do if you're going to get rid of Julio."
"The whole count that you can trade back and he'll probably still be there for the slot that you want because anybody coming up to #4 is going to get a quarterback. They're not going to come draft up or get to #4 to come get Kyle Pitts."
ADVERTISEMENT
Article continues below this ad
"So I think they're in the best seat of the house, right there waiting, seeing if their perfect option is there at quarterback…I think you trade it, get Pitts and you're a better team with the possibility of winning now," Saturday said on the show.
Pitts, along with DeVonta Smith and Ja'Marr Chase are potential offensive options for the Falcons who are working on a tight cap space this year. They could, however, also draft a quarterback if they decide to move on from Matt Ryan.
A trade for Julio Jones is also being discussed as we speak. So in reality, Falcons GM Terry Fontenot has some important decisions to make in the next 48 hours. What do you think he's going to do?
ADVERTISEMENT
Article continues below this ad