2021 NFL Draft: Ja'Marr Chase Compared to Legendary Julio Jones
Published 04/10/2021, 4:16 PM EDT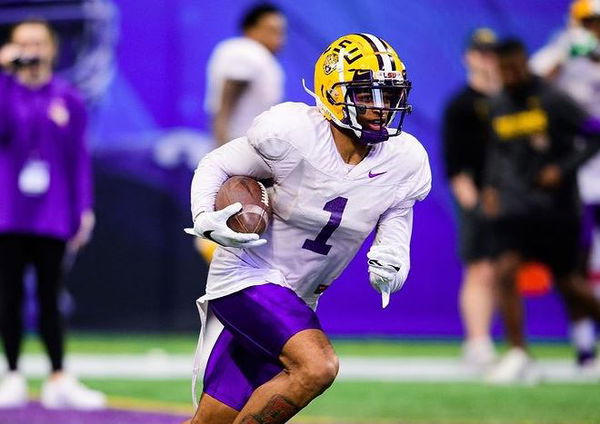 Former first-round (6th overall) pick Julio Jones has arguably been the greatest wide receiver to play in the NFL last decade. The Atlanta Falcons star is already a franchise legend. Two-time NFL Receiving Yards leader has more than 12,000+ receiving yards and 60+ receiving TDs to his name in the NFL. So when a young wideout like Ja'Marr Chase is compared to Jones. one must take heed.
Louisiana State University star Ja'Marr Chase opted out against the 2020 NCAA season due to the COVID-19 crisis. But his stock continues to rise amidst the NFL fraternity. The 2020 CFP National Champion is reportedly a first-round prospect at the upcoming 2021 NFL Draft.
But are the Julio Jones comparisons a bit too much, considering Chase has been away from the football field in 2020?
ADVERTISEMENT
Article continues below this ad
Ja'Marr Chase earns Julio Jones comparisons ahead of 2021 NFL Draft
Random draft quote of the day from a top evaluator — on #LSU WR Ja'Marr Chase: "Best WR prospect since Julio."

Some players lost steam after opting out of college in 2020, but not Chase. The consensus No. 1 in a very good receiver class.

— Ian Rapoport (@RapSheet) April 9, 2021
Ja'Marr Chase. along with Heisman Trophy-winning teammate Joe Burrow, was one of the standout performers for LSU in 2019. The 21-year old finished the season with 1,780 receiving yards and 23 receiving TDs. At the conclusion of the 2019 regular season, Chase was awarded the Fred Biletnikoff Award as the best receiver in college football.
In the absence of Chase last year, Alabama wide receiver De'Vonta Smith emerged as the top wideout in the NCAA. After leading his team to the CFP National Championship title, Smith also became the first wide receiver to win the Heisman Trophy since Charles Woodson did so in 1997.
He has emerged as one of the most exciting draft prospects this summer. But Chase maintains that he 'deserves' to be selected as the first wideout at the upcoming 2021 NFL Draft.
ADVERTISEMENT
Article continues below this ad
He might not be ready to fill the shoes of someone like Julio Jones yet. In fact, the NFL already boasts some fantastic wide receivers. Stefon Diggs, Davante Adams, Mike Evans, Tyreek Hill, Michael Thomas, and Antonio Brown are just a few of the big-name wideouts currently playing in the league.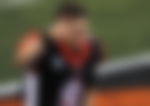 Chase needs to be playing in a strong offense with a consistent quarterback in order to match those stats. Maybe a reunion with former LSU teammate in Cincinnati is on the cards this summer?
ADVERTISEMENT
Article continues below this ad
The Bengals own the 5th overall pick at the upcoming 2021 NFL Draft. But coach Zac Taylor is not sure if they need to strengthen their offensive line (Penei Sewell is also available) or bring in a class act such as Chase. Watch this space for more.