44-Year-Old Tom Brady Flexes His Impressive Physique in Recent Instagram Post; Takes Shot at Dwayne Johnson Who Just Turned 50
Published 05/03/2022, 6:18 AM EDT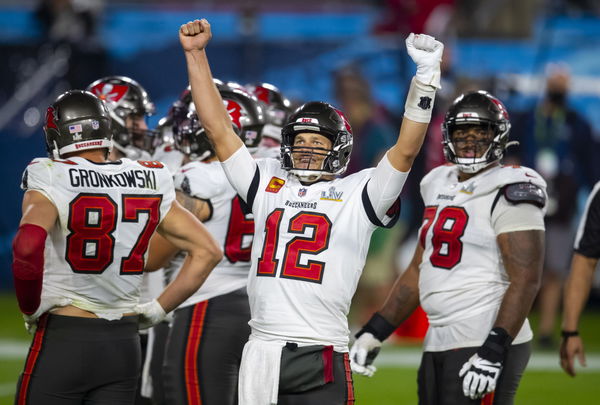 Tampa Bay Buccaneers quarterback Tom Brady was letting everyone know that his temporary retirement didn't hit him hard with a recent post on social media. The 7-time Super Bowl-winning trailblazer was flexing his muscles in a photograph taken on the sets of the upcoming debut feature film '80 for Brady'. He made an eyebrow-raising offer to do stunts for one of the most electrifying action movie superstars in Dwayne 'The Rock' Johnson.
In his recent social post on his official Instagram account, Brady was captured, showing off his chiseled arms. It was a show of incredible fitness from the Buccaneers QB and went viral among NFL fans online.
ADVERTISEMENT
Article continues below this ad
It was an emphatic visual representation of work Brady was putting behind the scenes. He has kept himself busy for his upcoming project and the 2022 NFL campaign.
 

View this post on Instagram

 
For his post's caption, Brady writes, "The exact moment Tom Brady "went Hollywood on the 80 For Brady set." While addressing the self-proclaimed 'Great One', Brady states, "I am free until August if you need help with any stunts in the meantime." Johnson was swift in responding to Brady, praising his physique and poking fun at him. He also describes him to be a combination of actors Ryan Reynolds and Kevin Hart.
Tom Brady has been a busy boy this NFL offseason
The 15-time Pro Bowler is going through one of the busiest periods of his career. He is involved with the launch of his Brady Brand, his upcoming movie, and the NFL. The film will see him share film credits with legendary actresses like Lily Tomlin, Jane Fonda, Rita Moreno, and Sally Field. It seems the foray into Hollywood has led Brady to put his best foot forward to make a great first impression.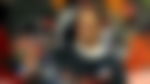 ADVERTISEMENT
Article continues below this ad
It marks the second occasion in recent weeks that Brady was showing off his progress. His durability to keep up with the rigors of the NFL and have a long career is a testament to his fitness. After coming off one of his best seasons as an NFL player, Brady is locked in to deliver in 2022.
Last season, Brady recorded 5,316 passing yards resulting in 43 TD passes and 12 INTs, leading the Buccaneers at the front.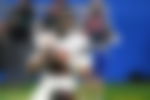 The Buccaneers' QB will look forward to another year with their legendary QB ahead of another crucial season. The promising signs are all there for another big season for the Buccaneers in the upcoming campaign.
ADVERTISEMENT
Article continues below this ad
Watch This Story: Serena Williams and Colin Kaepernick Make Generous Donations to Help Los Angeles' Homeless People