"It's Not My Job To Care About What You Guys Think": San Francisco 49ers QB Trey Lance Shuts Up Reporters With Blunt Response
Published 05/25/2022, 2:40 PM EDT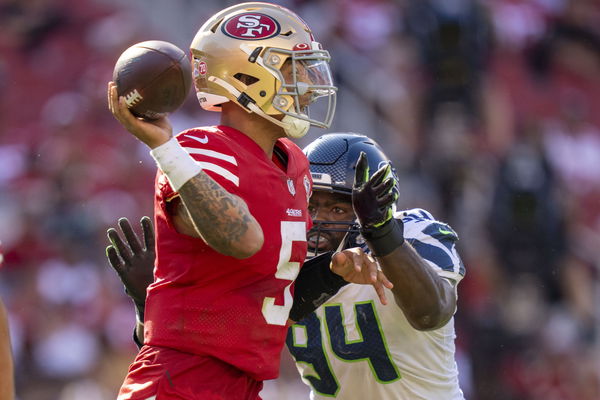 San Francisco 49ers quarterback Trey Lance was not holding back his honest feelings about the chatter surrounding him during the offseason. Lance enters his 2nd NFL season and is reportedly under-grooming of head coach Kyle Shanahan for the starting job. The former No. 3 overall pick in the 2021 NFL Draft was making the most of his recent opportunity to share his feelings.
During a recent media gathering, Lance lets loose in his calmer yet firm demeanor.
ADVERTISEMENT
Article continues below this ad
He states, "In the most respectful way possible — it doesn't change how I feel about you guys as people — but it's not my job to care what you guys say or anyone else on social media. For me, I care about what the guys in the locker room think and what my coaching staff thinks. And at the end of that, that's my job."
The rookie QB has now become a player who has elevated his status as a leader and a team player. The answers from Lance showcase the maturity he has found as part of Kyle Shanahan's offense. While he didn't get to play many games last season through injury, the Niners' second-year QB seems ready for the step up.
Will a fully fit Trey Lance impose his presence on the 49ers in 2022?
Last season, Lance was only able to make only 2 starts and will be hungry for more in the upcoming season. A lot is riding on him for the Niners, who traded away 3 first-round picks to pick him in the 2021 NFL Draft. He will also be taking from franchise QB Jimmy Garoppolo following a dismal exit in the NFC Championship game.
ADVERTISEMENT
Article continues below this ad
The succession has been underway for some time, and Niners TE George Kittle seems to be getting a front-row seat to his emerging presence.
Lance and his improvement since his rookie season are showing for Kittle, who confirms his hard-working ethic behind the scenes.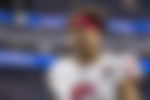 ADVERTISEMENT
Article continues below this ad
The Niners fans will be positively happy about these reports about their future starting QB and his commitment to helping them win again. The 2022 NFL campaign will present another opportunity to Lance, but with higher stakes to display his potential in San Francisco.
Watch This Story: Quarterback Sensation Josh Allen Bluntly Warns Vets Tom Brady & Aaron Rodgers Ahead Of 'The Match'