"A Group of Probably 4-5 7-Year-Olds…": 33Y/O JJ Watt Gets Humbled by Young Kids, Weeks After Hanging His NFL Cleats
Published 03/18/2023, 11:52 AM EDT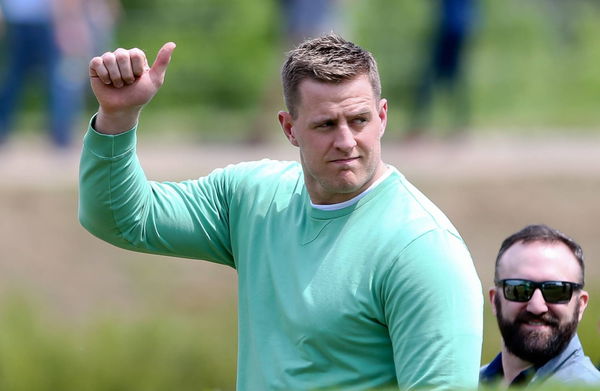 JJ Watt was a fearsome athlete when he played in the NFL just a couple of months ago. But he doesn't feel the same off the field after his retirement. The former Arizona Cardinals defensive end went for a leisurely activity to enjoy his time after hanging his cleats. But according to the NFL legend, he had a humbling experience with a group of seven-year-olds.
Watt played elite football for more than a decade and created a reputation of being a formidable piece of defense. Now he is facing competition from little kids.
JJ Watt narrates a humbling experience
ADVERTISEMENT
Article continues below this ad
JJ Watt is enjoying his life off the football field. But he is apparently losing to a bunch of seven-year-olds in scaling a mountain. He narrated a recent experience while trekking in the Arizona mountains.
"Alright, just finished hiking Camelback for the second time ever. Another humbling experience. I felt like I gave it a very good effort. Was passed by two kids, one who's apparently an elite-level high school quarterback. So, don't feel bad about that at all. But at one point near the top, I was hands-on knees taking a break, taking some deep breaths. And coming past me on the way down, meaning they had already been to the top, was a group of probably 4-5 7-year-olds. They weren't breathing very hard, but the big dawg was," Watt said through a video tweet.
Out here gettin' humbled by 7 year olds…

— JJ Watt (@JJWatt) March 17, 2023
According to the defensive end, his second hike to the mountain was a tough one but he managed to pull through. And he also pledged to go at it again. 
"Probably should lose some weight. 285 is a lot to take up a mountain," Watt added.
Watt hung up his cleats after the end of the 2022 regular season. All-in-all, he had a legendary career in the NFL.
A Hall of Fame-worthy stint
JJ Watt came into the NFL as the first-round pick for the Houston Texans in the 2011 draft. And he quickly established himself as an integral part of the Texans defense. During his time as a Texan, he became the NFL defensive player of the year thrice. He also went to the Pro Bowl five times.
ADVERTISEMENT
Article continues below this ad
He played the last two years of his NFL career as a Cardinal. And when he announced the end of his career, the whole NFL came together to give him an emotional send-off. That showed the love he evoked even in the hearts of his fiercest competitors.
ADVERTISEMENT
Article continues below this ad
He may think that some kids humbled him in trekking, but he did the same to many stars in pro football.
Watch This Story: Tyler Reddick Admits Michael Jordan Wasn't "Expecting a Lot" From Him, But It Was a Ploy for the Best
Edited By: Abigail Kevichusa