A Million Dollar Allegation Forces Coach Prime Deion Sanders to Go on an Intense Emotional Rant for HBCUs & Travis Hunter
Published 05/21/2022, 9:00 AM EDT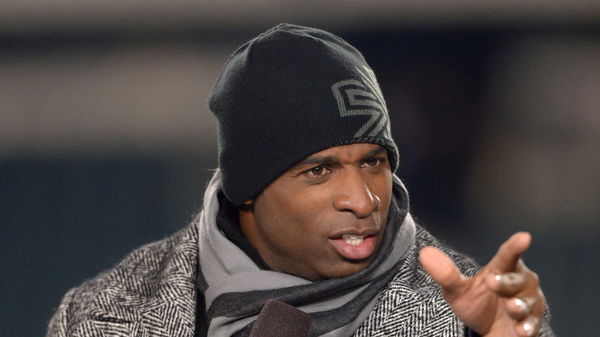 The Name, Image, and Likeness rules have messed up the landscape of college football. Big schools are trying to recruit young players by throwing big money bags at them. But there are still players and coaches who do it for the love of the game. One of the prime examples is Travis Hunter and HC Deion Sanders.
Hunter is a young cornerback prospect from West Palm Beach, Florida. He currently is a freshman at HBCU. The CB made headlines when he was considered as the number one recruit from sources. Coach Prime explains how the young athlete wanted to learn and valued the game more than the money. 
ADVERTISEMENT
Article continues below this ad
Deion Sanders opens up about recruiting Travis Hunter
Recently, the Alabama head coach Nick Saban spoke out on how the NIL rules are affecting the culture of college football. Coach Saban did not hold back while accusing Texas A&M and their way of buying athletes. 
Coach Prime Deion Sanders responded to Nick Saban's criticism. He also talked about how he recruited Travis Hunter without throwing big money at him. "I don't call it flip because he had never visited Jackson State. He has never been to HBCU. All he's heard about all his life is "this, this, this, that" at the powers" said coach Prime.
ADVERTISEMENT
Article continues below this ad
He continues, "Now getting him on the campus and bringing him to an HBCU game and a game of that magnitude where we got 60,000 of your people screaming, hauling, and yelling and shouting, and you've never seen anything like it." Seeing all those fans cheering for the love of the game made Hunter fall in love with HBCU. Sander also revealed that Hunter wanted to learn the ropes from him. 
Deion Sanders and top recruit Travis Hunter's response to Nick Saban saying Jackson State paid Hunter "a million dollars" to play there 👀 pic.twitter.com/Oh58VmmSNf

— Pickswise (@Pickswise) May 19, 2022
ADVERTISEMENT
Article continues below this ad
"Now the door is open. The gate is open. And we talk to mama and see what one of those other schools made a mistake. Well, mama said, "don't do this, and they did that." We was 100. We kept it 100, we kept it straight, we ain't trying to bag you, we ain't trying to do none of that. And they didn't want to be bought anyway. They don't even get down like that. We got Travis and Travis wanted to learn from me, man. He really wanted to." Seeing how coaches like Nick Saban and Deion Sanders are still trying to help young athletes. And players like Travis Hunter who want to learn the game make people still believe in football. 
Watch This Story: $10 Billion Is The Price Jerry Jones Says He Could Sell Dallas Cowboys for Today But Who Has This Much Money?