"Aaron Is Going": Davante Adams' Pro Bowl Hysteria Makes the NFL World Shout Something Bigger Is Afoot
Published 02/06/2023, 4:33 PM EST

Follow Us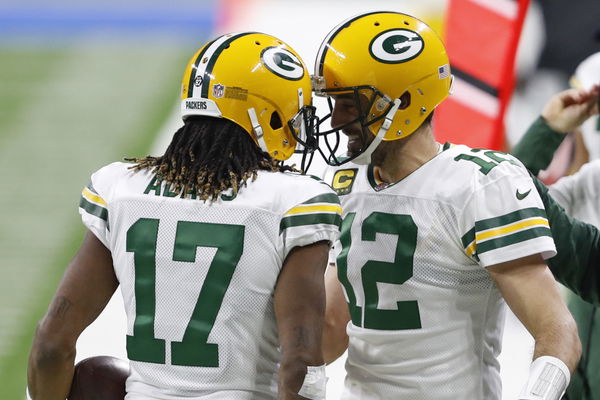 Davante Adams and the Raiders had far from the best season. But the receiver has seemingly moved on to a more positive outlook. Adams has been quite the advocate for QB Aaron Rodgers' potential move to Las Vegas. The duo, who developed a strong bond during Adams' time with the Packers, have created a whirlwind of speculation.
While the QB has been coy about the situation, subtlety hasn't been the WR's forte. Now, every little hint is beginning to add up to the big picture.
Davante Adams caught fans' attention at the Pro Bowl games
ADVERTISEMENT
Article continues below this ad
The league's reformatting of the Pro Bowl game to a flag football contest brought out the playful side of the biggest stars. Adams, who caught a touchdown pass from Tyler Huntley, made quite the statement with his celebration. 
Performing A-Rod's signature belt celebration, Adams sparked eager fans' hopes. But this is not the first time in the recent past that the WR has strongly hinted at the possibility of a reunion with his former QB.
The NFL world knows that Rodgers is not one to make such a big decision on a whim. They are well aware that no amount of persuasion can sway the QB into making a decision until he is ready. But that does not stop them from trying. As speculation escalates, here's what fans had to say.
Adams is not the only one who wants Rodgers on board
Fans cannot help but wonder if the slightest hints are pieces of a larger puzzle. Having Rodgers on board would definitely help the Raiders with their current problems. The NFL world responded to the question posed on whether Adams actually mimicked Rodgers' celebration. Fans affirmed that the WR had indeed done so.
It's a top 5 celebration all time.. so it will be used by many..

— SamoaJON (@RowdyJonnyPiper) February 6, 2023
Another user exclaimed
That HAS to mean Aaron is going to Vegas

— Shawn McKenna (@ShawnMcKenna65) February 5, 2023
ADVERTISEMENT
Article continues below this ad
One fan knows that something is brewing and posted a hilarious GIF
ADVERTISEMENT
Article continues below this ad
Aaron Rodgers has been paying attention to what fans have to say. But the veteran QB has not firmly indicated where he'd be headed. On the other hand, the Raiders' topmost priority is to find a new leading man. After the drama around Derek Carr's situation, their need for a QB is at its peak. Davante Adams' vocal recruitment with regard to Rogers has not gone unnoticed. But, the QB could potentially be headed to the Jets after they acquired Nathaniel Hackett. In what promises to be an eventful offseason, the NFL world will look forward to A-Rod's decision- if he chooses to stick around for around a season.
Watch This Story: Aaron Rodgers Has His Say On Davante Adams Getting Into Legal Trouble
Edited By: Deepika Bhaduri