Aaron Jones Injury Report: Sorrowful News for Green Bay Packers Fans
Published 11/15/2021, 2:23 PM EST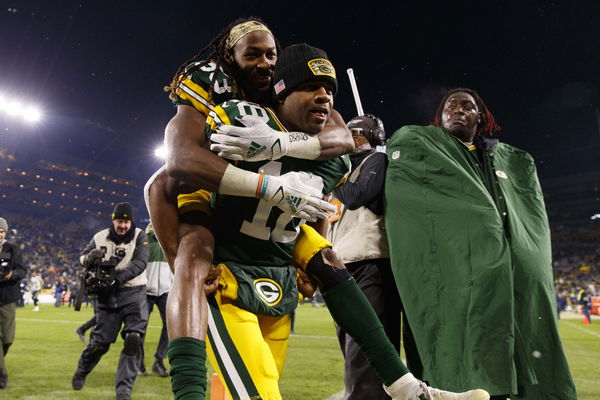 While the Green Bay Packers may have been battling multiple issues off the field, their on-field performances have been impeccable. The NFC North leaders have arguably the best record amongst all the reams in the NFL currently, with an impressive 8 wins and 2 losses. Aaron Rodgers once again registered a superb performance, but Aaron Jones suffered a gruesome injury.
The Packers continued their dominating run once again as they defeated the Seahawks thumpingly. While their 17-0 win was the breaking news of the night, another breaking news was yet another injury blow to the Packers. Last night against Seattle, the Packers lost Aaron Jones to a supposed MCL strain.
Green Bay Packers defeat Seattle Seahawks in a scintillating fashion
ADVERTISEMENT
Article continues below this ad
The Green Bay Packers continued their dreamy start to this season by completely blowing away the Seattle Seahawks. The Packers won 17-0 with a swashbuckling performance from the Packers defence. To contain a side comprising Russell Wilson, DK Metcalf, and Tyler Lockett to a combined zero point is absolutely phenomenal and is definitely praiseworthy.
While the Seahawks defense deserves praise, they were further helped with the rusty Russell Wilson. The Seahawks captain's rustiness completely swallowed Seattle's offensive outlet. Thanks to his misplaced passes, multiple interceptions, and overall sloppiness, it rendered the likes of Metcalf and Lockett complete non-factors.
Aaron Jones leaves the field injured in the third quarter against the Seahawks
While yesterday's match was being billed as the exhibition where injured players were returning, few expected the opposite to happen. Packers running back Aaron Jones left Sunday's game vs. the Seahawks in the third quarter with a knee injury and did not return.
ADVERTISEMENT
Article continues below this ad
On a 6-yard sprint at the end of the third quarter, multiple Seahawks players tackled Jones. After the play, he remained on the ground and was observed holding his right knee. Two medical personnel assisted him off the field.
Jones was subsequently escorted to the medical tent on the sidelines for a checkup.
ADVERTISEMENT
Article continues below this ad
According to ESPN's Adam Schefter, the Packers believe Jones sprained his MCL. The team has not confirmed the report. Wishing for a speedy recovery for Aaron Jones.