Aaron Rodgers Avoids His Name From NFL's Best QBs and Lists Tom Brady, Ex-Chiefs #19 Legend
Published 12/20/2022, 9:00 AM EST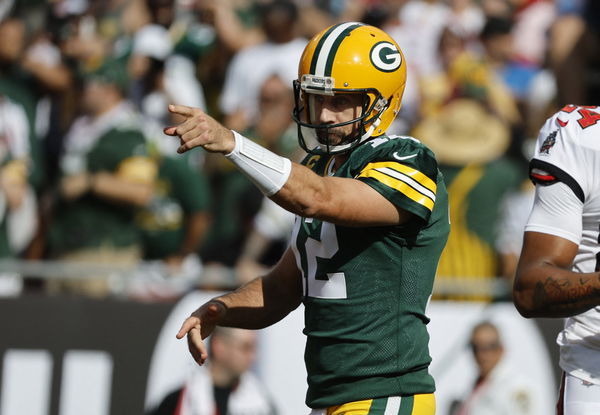 Aaron Rodgers and the Green Bay Packers won last night against the Los Angeles Rams to extend their winning streak to two games. And if the Detroit Lions hadn't won 6 games in a row to reach a 7-7 record, A-Rod's playoff chances would have been much higher. However, Rodgers would take the W and he took some time to celebrate the win with an NBA champion. And there he revealed some very interesting viewpoints.
The Packers quarterback answered a series of questions when he joined Milwaukee Bucks PF and former NBA champion, Serge Ibaka, on his YouTube podcast 'How Hungry Are You?' And some of the answers Rodgers had may not be the most pleasing to hear for some of the NFL's biggest stars and legends. Moreover, the QB gave us his top 5 quarterbacks of all time.
ADVERTISEMENT
Article continues below this ad
On Ibaka's insisting, Aaron Rodgers kept himself at no.5 on that list. However, the reigning back-to-back NFL MVP didn't want himself on that list initially. The first name out of his mouth was Tampa Bay Buccaneers QB and seven-time Super Bowl champion, Tom Brady. Rodgers also said that going by championships, Brady is the best in his mind. The other QBs were Joe Montana and Steve Young from the 49ers' golden era. And former Green Bay QB Brett 'Gunslinger' Favre was his fourth choice. However, despite their personal differences, Favre's inclusion on this list was a shocker. But A-Rod did rate himself higher than Brett as the greatest Packers QB.
Aaron Rodgers talked about Davante Adams' prime reason to move on from Wisconsin
ADVERTISEMENT
Article continues below this ad
There was a segment called Spicy Questions. This is where Ibaka had some really tough questions for the 2010 Super Bowl MVP in exchange for not having to eat an insect-infested beverage delicacy. This included answering who Rodgers thought was the worst starting QB in the NFL this season. The athlete took the smart way out and named an MVP candidate instead to avoid any controversies. No, Josh Allen, A-Rod doesn't really think you're the worst in the league. However, Rodgers also got down to some serious talk when he spoke about the departure of his favorite wide receiver Davante Adams in this off-season.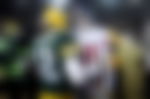 Adams joined former college teammate and QB Derek Carr at the Las Vegas Raiders after eight magnificent years with Aaron Rodgers and Green Bay. Rodgers explained that it was the uncertainty around his own future that led the receiver to find new challenges elsewhere. And the QB and WR duo are closer than ever with weekly calls and regular texting between the two.
ADVERTISEMENT
Article continues below this ad
WATCH THIS STORY: Aaron Rodgers' alleged girlfriend takes shots at NFL MVP after stuck in crisis hit Peru
After Adams' departure, Rodgers and Co. have been struggling this season. However, with Christian Watson shaping up to be a starting wideout, it may not be over for Green Bay yet. The 6-8 Packers face the Miami Dolphins next.
Edited By: Gurjyot Singh Dadial