Aaron Rodgers Breaks Down His Throwing Style and How it Has Evolved Over the Years
Published 01/06/2021, 10:04 AM EST
---
---
Aaron Rodgers has built a reputation for himself as having one of best throwing arms in the league. While his throwing style is not conventional, it gets the job done.
ADVERTISEMENT
Article continues below this ad
Like any quarterback, his throwing style is one that has developed over the years. Through high school days to the NFL, Rodgers has tinkered around to find the perfect form when it comes to throwing a football.
Aaron Rodgers talks us through his early years
ADVERTISEMENT
Article continues below this ad
The Green Bay Packers quarterback during a segment of the Pat McAfee show talked about how he changed his throwing action to suit his game in the NFL.
"I went through some different mechanical adjustments from junior college to Cal (University of California, Berkeley) and back to the league… I'm sure you guys can find a picture of me with the ball way up by my ear," Rodgers said.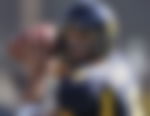 Transitioning from a high-held grip to one he was more familiar with growing up did the trick for Rodgers as he looked for a more comfortable throwing stance and action.
"Once I got drafted, every two years I was like, 'Man, I want it to be a little more comfortable'. Kind of back down where I held it in junior college and high school.
"So I just naturally kind of moved it down since it's about muscle memory remembering how to throw different types of throws."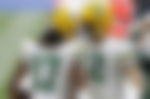 Learning from the legendary Brett Favre
Aaron Rodgers played as a backup to Brett Favre during his early years in the NFL. Favre, a 2016 Hall of Fame inductee, played 297 games for the Green Bay Packers and is a modern-day legend of the game.
Playing alongside Favre, Rodgers was quick to pick up little tips and tricks from the Hall of Famer.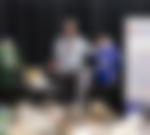 ADVERTISEMENT
Article continues below this ad
"I spent time watching Brett (Favre) and read different fundamentals and tried to figure out why he was doing certain things. And then little drills, you can do to work on your balance, hitch, weight distribution, rhythm and timing," said Rodgers.
"In the end it just comes down to remembering the throws and then kind of locking those away and being able to access those in the moment, to be accurate."
Rodgers' arm will go down as one of the best in the league. And with a 3 MVP title in sight, Rodgers seems to be in no mood of slowing down just yet.
ADVERTISEMENT
Article continues below this ad