Aaron Rodgers Broke Elon Musk Dreams With Cryptic Comment on a Social Media Giant
Published 12/28/2022, 5:30 PM EST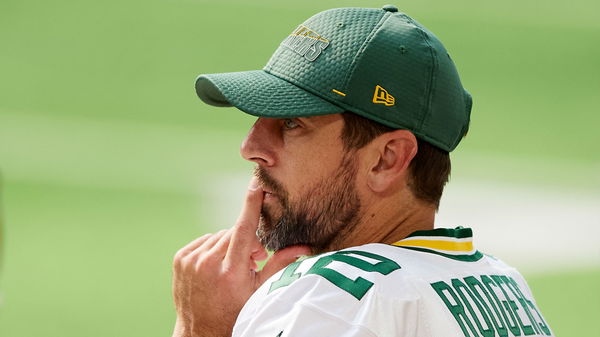 Aaron Rodgers and the Green Bay Packers are up for a comeback. After a slow start to the season, the Wisconsin side has bounced back into legitimate playoff contention. Recently, A-Rod took a subtle shot at billionaire Elon Musk and his new venture, Twitter. And it may not have carried too much weight without the Packers making the necessary comeback.
In an interview last month, the reigning back-to-back NFL MVP made the choice of his preferred social media application very clear. Aaron chose Meta-operated Instagram over Elon Musk's new favorite pastime, Twitter. And this is not even the first time the Packers signal-caller has taken a shot at the bird app.
ALSO READ: "No Way in Hell": Aaron Rodgers Once Defeated the Big Prediction of a Concerned Teacher to Bolster a Heroic Success
ADVERTISEMENT
Article continues below this ad
"I'll probably be about as active as I've been on Twitter. I enjoy Instagram a bit more. At this point. I look forward to the day I have no social media, which may be coming sooner than later," Aaron Rodgers said to reporters last month before facing the Tennessee Titans. And the billionaire Tesla and Twitter owner, although a preacher of freedom of speech, will not be pleased with A-Rod's comments.
This is not the only time Aaron Rodgers has waged war against Twitter
ADVERTISEMENT
Article continues below this ad
Time and again, Packers QB Aaron Rodgers has made it abundantly clear that he is not a huge fan of Twitter and its trolling culture. The 2010 Super Bowl MVP came on as a guest on NBA champion Serge Ibaka's podcast 'How Hungry Are You?' and told the Milwaukee Bucks star that he doesn't particularly care what Twitter thinks about him.
When asked why he doesn't talk back to his trolls and haters on Twitter like NBA star Kevin Durant, Aaron said that he has recently stopped the self-destructive habit. "Twitter was a lot of fun 10 years ago. But now it has become a haven for trolls. But I did that a couple of time. Went after them. Like yeah I got them but did you really get them," Rodgers wondered before adding that he doesn't want to add to their satisfaction anymore.
ADVERTISEMENT
Article continues below this ad
WATCH THIS STORY: Tom Brady's worsening form makes Aaron Rodgers' bff express deep concern in four letters
Aaron still has to visit Twitter for the latest NFL updates from reporters and insiders. However, Elon Musk must devise a way to get the quarterback's attention during his off-field course.