Aaron Rodgers Goes Off On Packers' Rookie WR Who Broke Davante Adams' Franchise Record And Absolutely Cooked Tom Brady And Buccaneers Defense: "That Innate Ability You Love From Receivers"
Published 09/28/2022, 11:30 AM EDT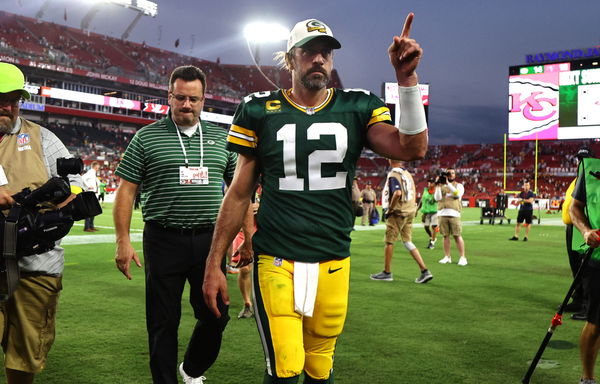 Aaron Rodgers is all praise for rookie receiver Romeo Doubs. The 22-year-old became the first receiver after Davante Adams to record eight receptions in a single game. Adams recorded this feat in 2018. The youngster played a crucial role in the Packers' win against Tom Brady's Buccaneers.
ADVERTISEMENT
Article continues below this ad
Talking on the Pat McAfee show, Rodgers explained why he likes Doubs and what makes him stand out as a special talent on his team. "There's a lot of things I love about Romeo. The first thing is his approach. He has lots of good questions. He's sharp when he is in a meeting. The coach quizzes him. He always comes up with various answers. Cares about it. And the best thing is he catches the ball all the time. He has that innate ability you love from receivers to be aggressive to the ball and catch up with the hands," A-Rod said.
ADVERTISEMENT
Article continues below this ad
When Aaron Rodgers went up to Romeo Doubs and passed a message
The NFL veteran added that he met Doubs before the game and passed on a crucial message. "Well, the funny thing is I went up to him before the game and I told him a great day to catch your first touchdown, I think. And he kind of smiled. I'm sure enough," the experienced QB said.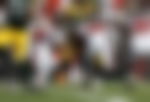 The 38-year-old revealed he teased the youngster and spoke about the quality and talent he possesses. "I was teasing him after the game about an interaction we had on Friday where he had a bike accident on the sidelines. And he came back and made this ridiculous over-the-shoulder catch, a foot above the size. It was good to have him around. You watch him last week. Easy catching," Rodgers added.
ADVERTISEMENT
Article continues below this ad
Doubs is a rising talent in the NFL
The 22-year-old rising talent shined against probably the best defense in the NFL in September. Doubs' record of 14 receptions, 137 yards, and a touchdown line over these first three games is a special performance. Only two players in NFL history have similar records.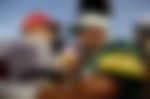 ADVERTISEMENT
Article continues below this ad
A confident Aaron Rodgers wants the rising sensation to do better. "He made some nice catches, and he's gonna get more opportunities. We need him to step up and every time performs well," concluded Rodgers. Surely, the youngster is making waves.
Watch This Story: Pragmatic Aaron Rodgers Wants No Part Of Media's Special Win Narrative Versus Tom Brady
Edited By: Gurjyot Singh Dadial